Anti #BlackLivesMatter protester dressed as Gorilla invades field, gets smashed (VIDEO)
Published time: 3 Oct, 2016 12:58
Edited time: 4 Oct, 2016 13:55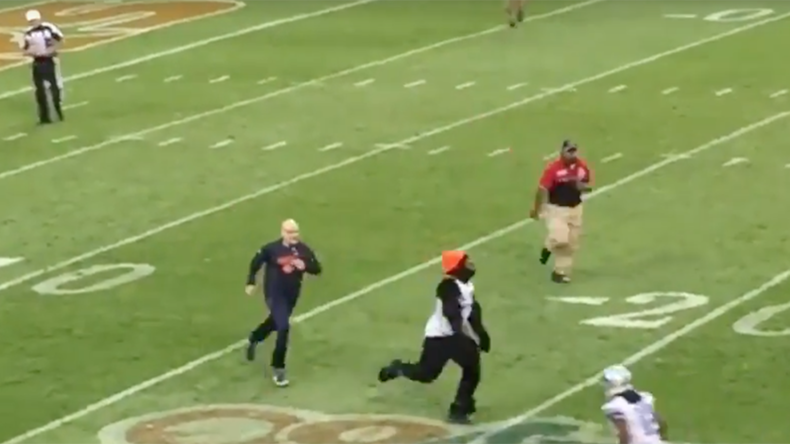 A protester wearing a gorilla costume with the words 'All Lives Matter' emblazoned across the front launched a field invasion during an NFL game at Soldier Field Stadium before security pinned him to the ground.
The incident occurred in the fourth quarter of the clash on Sunday between the Chicago Bears and Detroit Lions with the apparent anti-Black Lives Matter activist dashing onto the field, neatly sidestepping one pursuer and sprinting away from a steward.
Clearly, however, he wasn't wearing cleats and another attempted change of direction saw the invader lose his balance and hit the turf. Stadium security personnel apparently don't subscribe to the "Discretion is the better part of valor" school of thought and five people had piled on top of the suspect within seconds.
The man was then pinned down and escorted from the stadium but police have denied reports they made an arrest.
'Put The Guns Down' was written across the back of the Gorilla suit in what could be construed as a reference to fatal incidents involving police and African Americans in the last number of months.
The fan wearing a gorilla suit & an "All Lives Matter" vest who ran onto the field during #Bears game was turned over to police & arrested.

— Adam Jahns (@adamjahns) October 2, 2016
Some on twitter were surprised that the aftermath of the stunt was broadcast live on TV, with the suspect shown being led along the sideline. That's despite the general practice of diverting cameras to avoid giving such protesters the publicity they crave.