White House petition to call Pakistan 'terrorism sponsor' passes 600,000 benchmark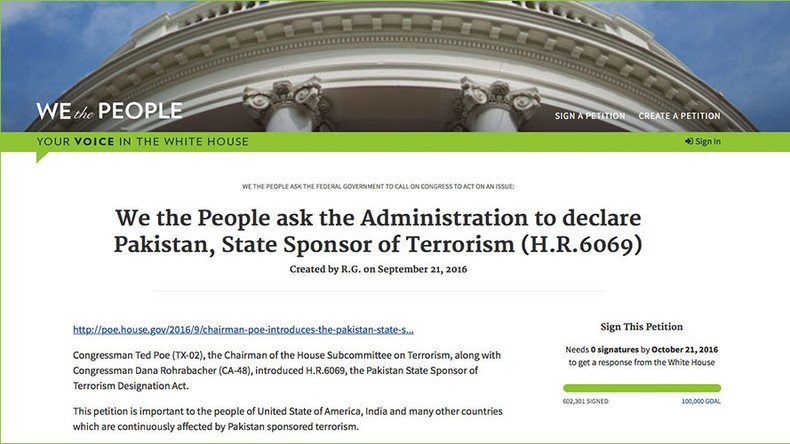 An online petition calling on the US to declare Pakistan "a state sponsor of terrorism," has gained over 600,000 signatures, making it one of the most-supported since the White House petition service was launched in 2011.
The online action supports a bill sponsored by Texas Congressman Ted Poe along with Californian representative Dana Rohrabacher, which was introduced two weeks ago. It accuses Pakistan's Inter-Services Intelligence (ISI) of helping to harbor terrorist groups, including the Taliban, the Haqqani Network and Al-Qaeda. It also claims the agency helps the groups to purchase weapons.
The bill demands that the White House either designate the government of Pakistan as a state sponsor of terrorism or justify to the Congress why it refuses to do so.
The much-supported petition supporting the legislation was published on the We the People website on September 21. After a week it broke the 100,000 threshold, which requires the US government to reply to it formally. By Monday it had scored more than 600,000 signatures and is currently the most popular petition on the site.
Pakistan is a key ally of the US, hosting American combat drones that cover the Middle East and Afghanistan. Commenting on the surging petition, the State Department said it was focusing on enhancing Pakistan's ability to fight terrorism on its soil.
"They're fighting a serious and sustained campaign against violent extremism. We do believe that they're making progress, that they're taking steps to counter terrorist violence, but at the same time we've been very clear that they need to target all militant groups, including those that target Pakistan's neighbors, and close all safe havens," State Department spokesperson Mark Toner said.
In 1970s, the Pakistani intelligence service was crucial for funneling support to the militant movement during the Soviet invasion of Afghanistan and is considered a co-founder of the Taliban by many historians.
The killing of terrorist mastermind Osama Bin Laden by US commandos in the Pakistani city of Abbottabad in 2011 was condemned by Islamabad, which saw the unannounced American raid a violation of its sovereignty. Pakistan jailed Shakil Afridi, a doctor who played a crucial role in tracking down Bin Laden, for conspiring with the CIA.
You can share this story on social media: