Police arrest 2, fire pepper balls at protesters in El Cajon, California following altercations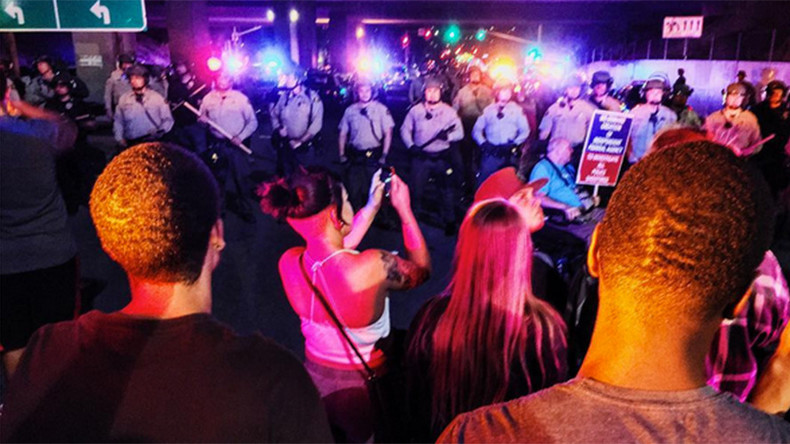 Police used pepper balls on dozens of protesters in El Cajon, California, and detained two men, after the crowd started throwing glass bottles at the officers.
According to an El Cajon Police press release, up to 75 protesters blocked an intersection in the town, stopping cars and breaking their windows. They also assaulted a motorcyclist who was knocked off of his motorcycle.
The local police got numerous 911 calls about the events, so a group of officers was sent to the scene. The policemen declared an unlawful assembly and ordered the protesters to disperse.
After the warning, protesters started hurling objects at officers, who then deployed pepper bullets and made arrests, according to police press release.
One of the detained is described as a 19-year-old male and the other is a 28-year-old male, according to police. Both are from El Cajon. There are no reported injuries at this time.
READ MORE: Black man fatally shot by El Cajon Police was unarmed, pointing e-cigarette

The disturbance comes a few days after 38-year-old Alfred Olango, an unarmed man, was fatally shot by police in El Cajon.
Initial reports indicated Olango may have been mentally ill, but his mother said that it was not true, and that her son was grieving for a friend.
Olango had a criminal history, and according to Immigration and Customs Enforcement officials, the department tried to deport him twice, but Uganda refused to take him.
A few hours after the shooting, authorities released a photo that showed Olango holding an object and facing the officer that eventually shot him. The object was later identified as an e-cigarette.
Olango's family had come to the US from war-torn Uganda 25 years ago for protection. The family is set to hold a rally on Saturday, and urged locals to join them.