'Get out': BLM protesters chase and punch man in Trump hat, force him to flee rally (VIDEOS)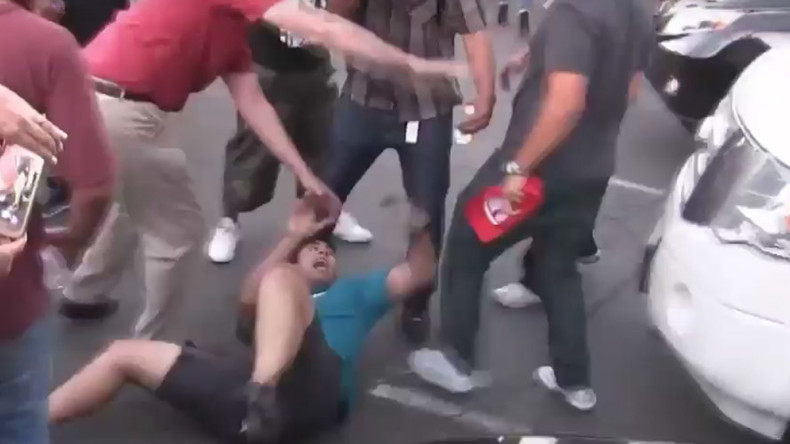 A Donald Trump supporter did not get a warm welcome among grieving Black Lives Matter protesters on Wednesday. His red "Make America Great Again" hat taunted the mob like a matador, sending them chasing after him to administer a beating.
Feras Jabro was marching alongside numerous protesters in El Cajon, California, after police there fatally shot a black man who was believed to have had mental problems.
READ MORE: Black man fatally shot by El Cajon Police was unarmed, pointing e-cigarette

For Jabro, the rally was peaceful until someone noticed his Trump-slogan hat, reading "Make America Great Again."
"You are at an event where people don't support Donald Trump at all," a woman in a yellow headdress is seen telling him in a video that Jabro recorded. In a short moment, the crowd starts chanting "get out," and someone off camera hits the Trump supporter on the head.
"I was just assaulted," Jabro says into his own phone camera. "I am here to support the cause. I am not for any deaths. I am simply wearing a hat."
Jabro recording himself only further irritated the mob. Somebody in the crowd attempted to knock the Trump hat off the man's head amid "shame on you" chants.
That's when things got serious for Jabro. He was chased, thrown to the ground and nearly beaten.
Jabro managed to make it out of the mob and ran to police cars that had started arriving at the scene.
"I was just simply attacked," he tells a police officer, who asked him why he decided to wear the Trump hat.
"That's a terrible question, sir," Jabro said. "I am simply a Donald J. Trump supporter, who also happens to want equality."
Alfred Olango, 38, was shot and killed by police in a San Diego-area parking lot on Tuesday after he allegedly failed to follow orders while reportedly behaving "erratically."
It was later confirmed that Olango was unarmed and the suspicious subject he pointed at police, which they thought was a gun, had in fact been a four-inch-long e-cigarette. Olango's sister also said that her brother had mental problems.