NJ Transit crash: Human error, illness or sluggishness to enact passenger safety regs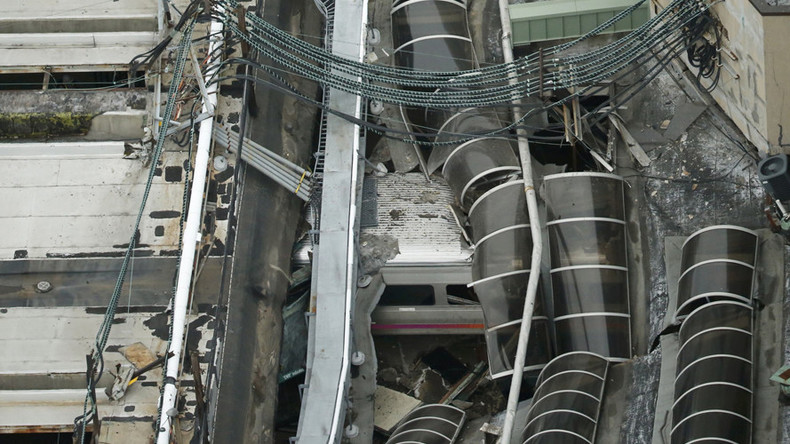 Investigative agencies have sent teams to probe the NJ Transit train crash to determine what caused the tragedy. Among causes being considered are break failure, driver distraction or a health issue. The crash left one person dead and 108 others injured.
The New Jersey Transit Corporation commuter train crashed into the Hoboken terminal during rush hour on Thursday morning, causing numerous injuries and major structural damage.
Read more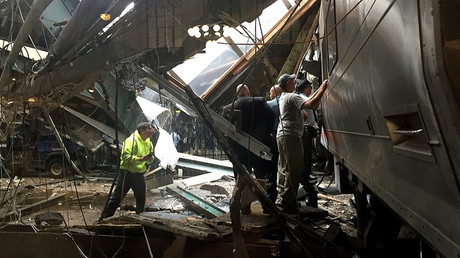 "Obviously an extraordinary tragedy. We prayed for the family of the one fatality, that we have confirmed, for her and her family. We have 108 injured, and all of those have been evacuated to local hospitals and receiving the care they need," said Governor Chris Christie who told reporters he had just taken a tour of the crash site with New York Governor Andrew Cuomo, at a Thursday afternoon briefing in Hoboken.
"The engineer who was operating the train was also critically injured is at a local hospital and cooperating with law enforcement official in the investigation."
Governor Cuomo said that one death was a 'blessing' taking into consideration the high speed of the train. It's still unclear at the moment what was the speed exactly, but it is know it was at high rates.
Christie said what is known so far is that the train arrived at the station at a high rate of speed and crashed through all the barriers, striking the wall of the Hoboken Terminal.
"Extraordinary reaction from local law enforcement and EMS, and civilian passengers who assisted EMS and local police and state police in evacuating passengers as quickly as possible, and helping with the triage of the passengers," said Gov. Christie.
He called for people not to jump to conclusions, but rather let the facts unfold first.
While investigators look into whether brake failure, driver distraction or a health issue may have contributed to the crash, safety advocates are questioning why the train didn't have a second engineer or positive train control (PTC), a system to automatically prevent accidents from happening.
PTC automatically slows down trains when they exceed the speed limit on a stretch of track.
New York Congressman, Sean Patrick Mahoney was instrumental in the passing of a bill in 2008, the Passenger Safety Act, that mandated installation of the PTC. A federal mandate required installation by 2015 on all the nation's leading railways.
"There is really an embarrassing and disgraceful history of non-compliance with federal regulation," New York Congressman Seam Patrick Maloney, told CNN, who lost a friend in the Metro North derailment at Spuyten Duyvil in 2013, when the driver took a corner at high speed, leading to four deaths and 61 injuries.
"What we found out, except for Amtrak, was most railroads were not anywhere near complying," Congressman Maloney told CNN.
Maloney said he passed legislation, the Railroad Rehabilitation and Improvement Finance Program, in 2015 that opened up $35 billion in federal financing to install the safety technologies. He said Governor Cuomo is spending a $1 billion on installing positive train control on Metro North and on the Long Island Railroad.
"New Jersey transit issued a plan in 2011 that said 22 percent of its system would have PTC by the end of 2014," said Maloney. "And yet, now two years later, xero percent of New Jersey transit system has PTC. It is a failure of New Jersey Transit."
The nation's railroads were supposed to have PTC installed on their lines by 2015 but got a three-year extension after telling the House Transportation Committee they could not finish the work by the deadline.
Bizarre to live in a world where we simultaneously discuss colonizing Mars and have no auto stop on more than 2/3 of our trains. #Hoboken

— Elizabeth Joh (@elizabeth_joh) September 29, 2016
President Obama signed a bill last year extending the deadline to the end of 2018 and allowed railroads the option of requesting an extension of up to two years to complete testing and installing gear.
Earlier in the day, the chairman from the National Transportation Safety Board was asked about PTC.
"PTC has been one of our priorities, and we know that it has proven to prevent accidents. That is one of the things we will look at carefully," Bella Dinh-Zarr replied.
She said they would be looking at the similarities between today's crash and the one that occurred at Hoboken in 2011. That crash injured more than 30 people when a PATH commuter train smashed into the bumpers at the end of the tracks on Mother's Day.
"We always look at the past history and every other factor," said Dinh-Zarr.