'Pepe the Frog' classed as a hate symbol after white supremacists link (IMAGE)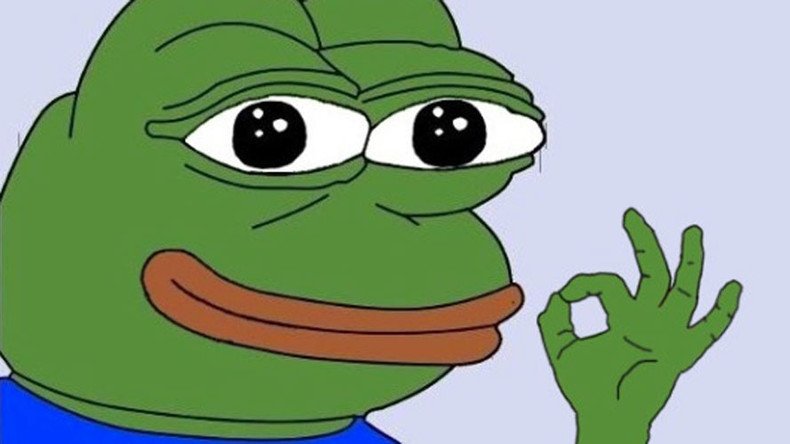 A cartoon frog, once the 'slacker' star of an internet comic strip, has been labeled an online hate symbol by the Anti-Defamation League (ADL) because of its new-found popularity among white supremacists.
'Pepe the Frog' - otherwise known as 'Sad Frog' - debuted in San Francisco illustrator Matt Furie's comic Boy's Club back in 2005.
The series became a viral hit in the early days of social media and was prolifically shared on platforms such as MySpace, Reddit and 4chan's anonymous image board. Due to the nature of the internet, creator Furie has admitted that the use of Pepe's image is no longer something he can control.
With a vacant stare and bulging eyes, the frog is now a popular meme, often used as a 'reaction face' in response to a subject (like Katy Perry's jetlag) or an event online.
However, the ADL, a non-profit organization set up to fight anti-Semitism, says that since the US presidential race kicked off, the amphibian's likeness has been co-opted by the "alt-right segment of the white supremacist movement."
The Hillary Clinton campaign also sought to highlight its neo-Nazi connotations this month after Pepe featured in an image shared by Donald Trump Jr reacting to her "basket of deplorables" jibe.
While the cartoon's genesis is innocent, the ADL states the image's recent use to spread "racist, anti-Semitic or other bigoted themes" means it must now be considered a symbol of hate.
The group has entered it into a 'hate symbol database', where the anti-police acronym "ACAB" and Ku Klux Klan insignia can also be found.
"Images of the frog, variously portrayed with a Hitler-like moustache, wearing a yarmulke or a Klan hood, have proliferated in recent weeks in hateful messages aimed at Jewish and other users on Twitter," a statement by the ADL said.
Pepe has also been cast as a sandy-haired presidential candidate, smirking at a US border fence keeping out a couple in traditional Mexican dress.
"Once again, racists and haters have taken a popular internet meme and twisted it for their own purposes of spreading bigotry and harassing users," said Jonathan A Greenblatt, ADL CEO. "These anti-Semites have no shame. They are abusing the image of a cartoon character, one that might at first seem appealing, to harass and spread hatred on social media."
Racist Pepe
It's difficult to pinpoint the exact moment Pepe transformed from college cartoon to racist, bigot-fodder. There are scores of examples of memes being given a racist or misogynist twist, with some based on offensive stereotypes.
A Daily Beast article earlier this year featuring two anonymous white supremacist Twitter users gave rise to the idea the meme was the victim of a bizarre plot to co-opt its already broad meaning.
"Turning Pepe into a white nationalist icon was one of our original goals, although we've had our hands in many other things," @PaulTown_ told the publication. A second source, @JaredTSwift, also said Trump's online support has been "crucial" to the supposed campaign.
Taking the word of two anonymous keyboard warriors seems like a recipe for disaster, but the frog's appearance in the midst of US election controversy has brought its negative use to the foreground.
In October 2015, Donald Trump linked himself to Pepe when he tweeted an image portraying The Donald in 'green-face', alongside a video putting down his opponents on the campaign trail.
More recently though, Pepe's fall from grace seems to have been further hastened after being drawn into Hillary Clinton's "basket of deplorables" in an image shared by Donald Trump's son on Instagram.
The image shows Republican presidential candidate Trump heading up a team dubbed "The Deplorables". Alongside the billionaire businessmen are running mate Mike Pence, Alex Jones, Trump's two sons, and yes, Pepe.
"Apparently I made the cut as one of the Deplorables," Donald Trump Jr captioned the image. "All kidding aside I am honored to be grouped with the hard working men and women of this great nation that have supported @realdonaldtrump and know that he can fix the mess created by politicians in Washington."
The Instagram picture was picked up by the Hillary Clinton campaign team on September 12, where a post on the Democrat's website denounced the frog cartoon as "sinister" and a "symbol associated with white supremacy."
You can share this story on social media: