Second Navy sailor disciplined for anthem protest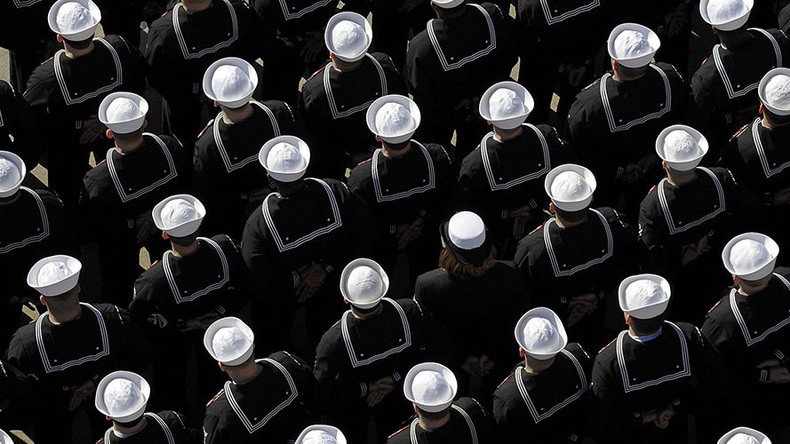 A US Navy soldier is being disciplined for failing to stand for the national anthem in an act of protest inspired by footballer Colin Kaepernick.
Janaye Ervin has served in the military since 2008 but felt she could no longer stand for the national anthem following a series of instances of police brutality against black Americans.
"I feel like a hypocrite singing about 'land of the free' when I know that only applies to some Americans," she explained in a Facebook post that has since been removed. "I will gladly stand again, when ALL AMERICANS are afforded the same freedom."
Since staging her protest, the active duty sailor says she has had her security clearance revoked and was threatened with jail time.
Ervin is the second sailor to take part in the growing anti-anthem movement. An unnamed sailor in Florida was shown sitting during the anthem with her fist held up in a nod to the 'black power' salute.
"Until this country shows that they've got my back as a black woman, that they've got my people's back — not even just being black but people of color — I can't. And I won't," she explained.
Active members of the military are restricted by rules which govern their conduct. It is technically illegal for Navy members to protest this way, according to Navy Regulation 1205, which requires personnel to stand and salute the flag, or place their hand over their heart during the national anthem. Breaching this is classed as a serious offense and is punishable under Article 92 of the Uniform Code of Military Justice.
The Navy has responded to the two acts of protest by publishing new guidelines which remind members of the above regulations, and feature restrictions on social media etiquette.
"Sailors will receive training on the appropriate usage of social media and must not use it to discredit the Naval Service, and should be reminded it could potentially be used as evidence against them," it warns.
"While military personnel are not excluded from the protections granted by the First Amendment, the US Supreme Court has stated that the different character of our community and of the military mission requires a different application of those protections."
You can share this story on social media: