2nd anniversary of Mexico student massacre commemorated with protests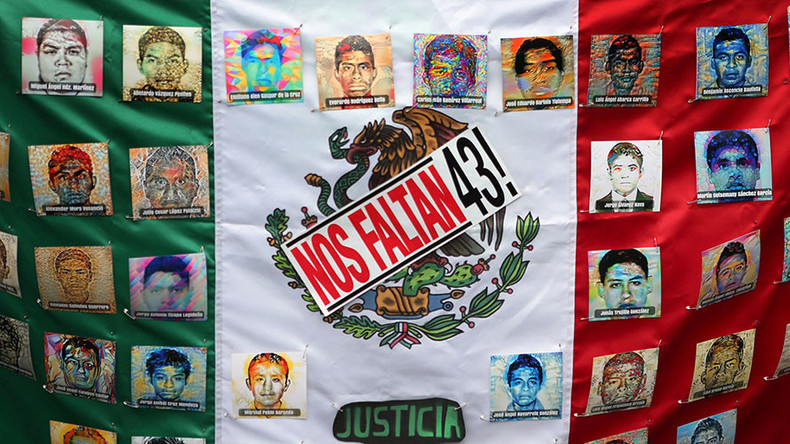 Two years ago, 43 students from Ayotzinapa, Mexico, disappeared after being attacked by police patrols. The unsolved tragedy is being remembered with protests in Mexico, throughout the US and other countries.
Parents of the missing students led the marches in Mexico City, while protests in Australia and the US coincided in shows of solidarity.
The tragedy was commemorated with massive marches in New York and in other cities. In Times Square, protesters took to the streets, chanting: "Black lives matter," and, "Brown lives matter." The march went to the Mexican consulate in New York as well.
The students disappeared after they had commandeered travel buses to take them to demonstrations in Mexico City.
Police stopped the vehicles and what exactly happened next has been disputed for the past two years. What is known is that a fight broke out between students and police which resulted in three students dying with three bystanders being killed in the crossfire as well. 43 male students were arrested by police, but what happened to them next remains a mystery.

Six months after the students disappeared, then Attorney General Jesús Murillo Karam presented the results of an investigation he referred to as the "historic truth" that claimed police had handed the students over to a local drug cartel who killed them and incinerated their bodies. Murillo Karam claimed that Iguala's mayor, José Luis Abarca Velázquez, and his wife, María de los Ángeles Pineda Villa were behind the abduction and murders.
The explanation was discredited by independent forensic experts and to this day, no one has been tried for crimes related to the disappearance of the students. This along with reports that arrested citizens who confessed to involvement were tortured has caused some international human rights organizations to believe that President Peña Nieto's administration has failed the case.
"As was expected, in a country with an atrocious human rights record, progress on the Ayotzinapa investigation has reached a standstill," said Erika Guevara-Rosas, Americas Director at Amnesty International.
The parents of the missing students refuse to accept the standstill and have led protests in Mexico and demand to know the truth about what happened to their sons.