Houston shooting suspect wore 3rd Reich uniform, collected Nazi symbols in his apartment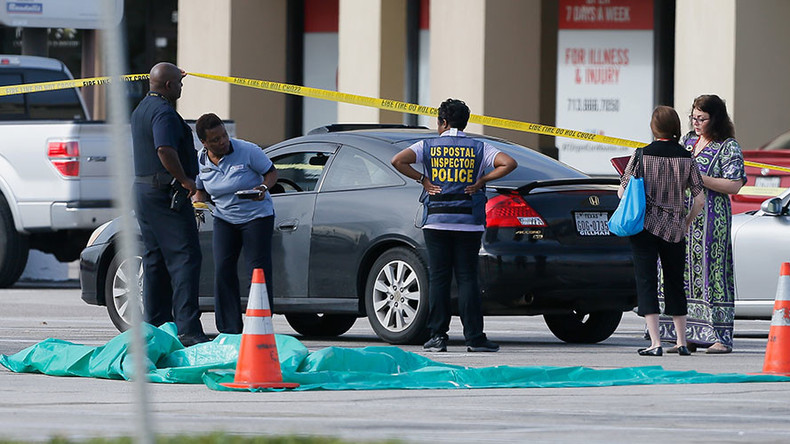 A "disgruntled lawyer" who is believed to be responsible for shooting nine people in Houston has reportedly been collecting Nazi paraphernalia and was wearing a vintage military uniform with swastikas when going on the rampage.
More Nazi symbols were found inside his condo, local media said.
Nathan DeSai, as the shooting suspect has unofficially been identified, injured six people near a Houston shopping center on Monday morning before being neutralized by police. Another three people were struck by debris and glass.
The shooter's name has not been confirmed by law enforcements, but as Houston Mayor Sylvester Turner told reporters he was "a lawyer whose relationship with his law firm went bad."
Hours after the shooting, the motive behind it remains unknown, but as Perrye Turner, special agent in charge of the FBI's Houston Division, said officials don't believe the incident is tied to terrorism.
However, it has been revealed that the he was probably fond of the Nazis and collected vintage paraphernalia.
According to local KPRC2, investigators have searched DeSai's residence and found symbols and materials related to the Nazi regime.
Houston Police Department Captain Dwayne Ready has confirmed that Nazi emblems and military items "going back to the Civil War" were also found inside the man's apartment at the Oaks of Weslayan on Law Street.
Earlier, police have also said that the suspect was dressed in a military-style uniform emblazoned with swastikas.
The shooter struck Houston's upscale neighborhood Upper Kirby, at around 6:30 a.m. on Monday.
"Whatever cars were going by, he was shooting at them," local resident Lee Williams told AP.
Police have investigated what was believed to be the suspect's vehicle, a Porsche.
The search of turned up two guns, a .45 semi-automatic handgun and a .45 semi-automatic Thompson carbine, as well as 2,600 rounds of ammunition. Some reports said that both weapons were purchased legally in 2009 and 2011.
His father, Prakash DeSai, has told reporters that his son was driving a black Porsche and did possessing the weapons, but was licensed to carry them. Local KTRK said it managed to speak to the man's father who also said that he unsuccessfully tried to contact his son on Monday. The man confirmed that the suspect worked as a lawyer, but was upset over the failure of his private practice and "because of his personal problems."
The news channel has also spoken to Ken McDaniel, who confirmed that he worked with DeSai at McDaniel & DeSai LLP, but their practice eventually closed down due to financial issues.
A property manager of The Oaks at West University condo complex, where DeSai lived, has told AP that the suspect was involved in two recent incidents.
Last month, Jason Delgado said police were called after roofers working in the complex complained that DeSai pointed an assault-style rifle at them.
Delgado's story has also been echoed by another dweller, Jennifer Molleda, who also mentioned the incident on the rooftop.
However, the case lacked evidence and no charges were brought against the suspect.
Last week, DeSai reportedly became upset over water pressure problems at his home. He sent an email to the management firm that implied he'd "intimidate his way to getting what he was asking for," Delgado said.