Clinton vs Trump: First 2016 presidential debate
Published time: 27 Sep, 2016 00:07
Edited time: 27 Sep, 2016 13:04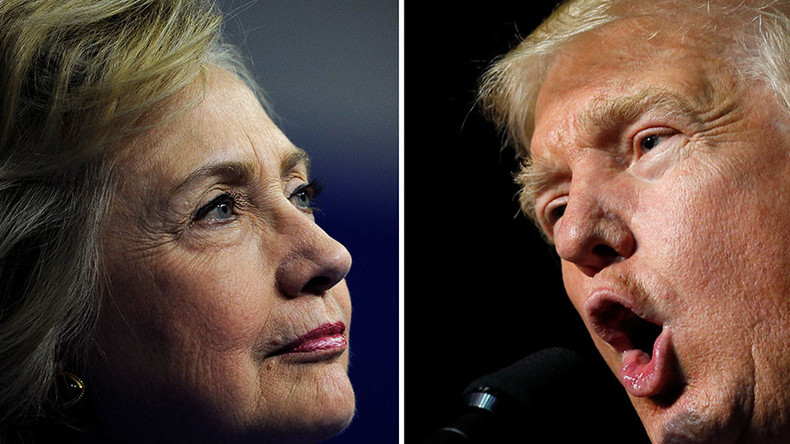 Much is on the line for Donald Trump and Hillary Clinton in what is widely anticipated to be the biggest American political event in modern election history. The two presidential candidates will debate one-on-one for the first time, in a commercial-free 90-minute contest centered around the top issues of 2016.
Clinton, 68, and Trump, 70, will be tested like never before, as for an hour-and-a-half, with no breaks, NBC News' Lester Holt pries into their views and policies on foreign and domestic matters. Presented by the Commission on Presidential Debates at Hofstra University in Long Island, New York, all of the questions are entirely up to Holt, but the rules specify that cameras will remain pinned on the candidates with no cutting away from the stage and no microphone adjustments allowed either.
How Holt's autonomy will come into play is uncertain. The Clinton camp has pushed for the veteran reporter to "fact-check" Trump, while the Republican nominee's team says Holt ought to remain silent and neutral, while the candidates themselves take each other to task for misstating the truth.
Americans, and the world, have a bounty of choices as to how they watch the debate, and each channel or network may offer a different experience. Bloomberg TV will offer its own on-screen fact-checking for each candidate, Politico reported Monday, citing spokespeople.
27 September 2016

02:46 GMT

Both candidates agreed in the end to support the outcome of the elections.

And we ask our followers

02:38 GMT

"She doesn't have the look, she doesn't have the stamina, to be president of this country you need tremendous stamina,you have to be able to negotiate our trade deals," Trump said.

"She has experience, but it is bad experience," Trump said.

02:37 GMT

"She's spent hundreds of millions of dollars of ads on me and it's not nice and it's not true," Trump said.

02:31 GMT

The single greatest problem the world has is nuclear armament," Trump said adding, "it's not global warming like your president says."

02:31 GMT

"I want to help all of our allies but we are losing billions and billions of dollars, we cannot be the policeman of the world," Trump replied.

02:28 GMT

"I want to reassure our allies...we have nuclear treaties, and i will honor them," Clinton said. "I want to say on behalf of the majority of the american people, our word is good."

02:25 GMT

A man who can be provoked by a tweet should not have his finger near the nuclear codes - Clinton

02:21 GMT

"You have to understand i'm a business person, I have common sense: we're defending them, they should at least be paying us, " Trump said on NATO.

02:20 GMT

"I have much better judgment than she has, there's no question about that. I also have a much better temperament than she has," audience member guffaws at Trump's words. "I have a winning temperament," Trump