Too powerful for internet not to be snarky: Michelle Obama hugging Bush becomes meme
Published time: 26 Sep, 2016 23:15
Edited time: 27 Sep, 2016 12:58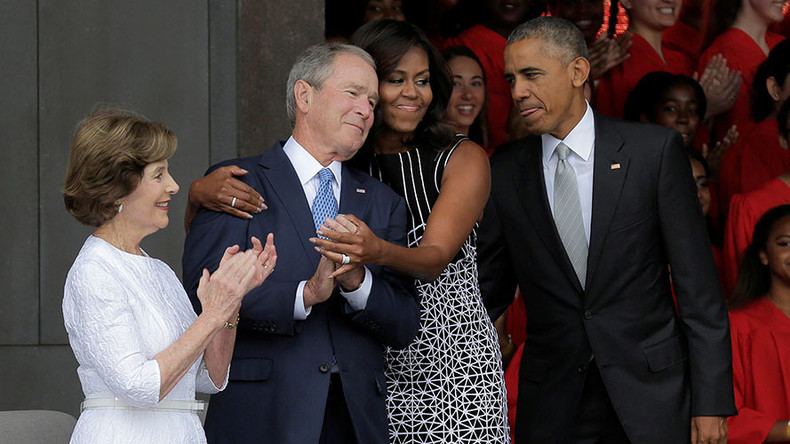 Michelle Obama gave George W Bush a brief hug as she passed him at the opening of the National Museum of African-American History and Culture and it was quickly immortalized in Photoshop contests and memes across the internet.
A camera clicked at the perfect moment to catch a snuggly sweet-looking hug between the current First Lady and former president George W Bush on Saturday. From there, Michelle joined Barack in Reddit's Photoshop contest hall of fame.
While the picture was funny to many, others found a sense of respect in it that many feel are missing in this year's election cycle. The bipartisan hug between a Democrat First Lady and former Republican president stirred some powerful emotions.
Mike Birbiglia (Sleepwalk with Me, Don't Think Twice) was one of the people who saw a serious side to the image. He tweeted the picture of the FLOTUS and former POTUS getting cozy with the caption: "This is powerful. I'm sorry, but it is. Please don't write something snarky."
His plea went unheard because as Kanye West once said, "No church in the wild." The wild, in this case, is the internet.
From there, his caption went on to be used to describe a series of political images from the past, such as from when the US supported Osama Bin Laden's anti-Soviet efforts to when Hillary Clinton and Donald Trump weren't calling each other names.
Naturally, the picture was also used for a variety of non-political images.