Jill Stein escorted by police away from Clinton-Trump, plans debate fightback via livestream Q&A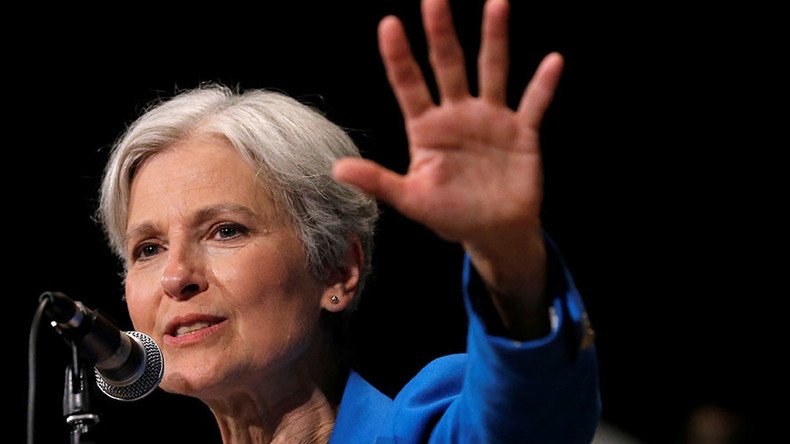 With third party candidates barred from the first presidential debate at Hofstra University, Green Party candidate Jill Stein will simultaneously broadcast her participation in the debate via social media and take questions. Earlier police escorted Stein from the campus.
"[Using] a range of cutting-edge social media tools, Jill Stein will literally 'insert' herself into the debate process," her campaign said in a statement about Monday's televised presidential debate.
Earlier in the day after holding a press conference outside Hofstra to protest her lack of inclusion in the debates, Nassau County police and Hofstra security escorted her away from the site.
"What we are witnessing is not a political debate but literally a police state," David Cobb, Stein's campaign manager told RT. "There are multiple fence parimeters to prevent even ordinary people from getting on to this public campus. Jill Stein has press credentials and was literally escorted off this campus."
Cobb said Stein was there to do interviews with students and activist groups, but police told her she was wasn't allowed to be outside Hofstra between interviews.
Prior to the debate, at 5:30 p.m., Stein will host a "People's Debate" with an assembled crowd outside the gates to Hofstra University, which will be livestreamed via Periscope on Dr. Stein's official Twitter account as well as via Facebook Live.
Over 3,500 people watched the "People's Debate' on Periscope as the crowd chanted "Open debates, not a security state," and "Let her in," outside the gates to Hofstra University.
One of Stein's policy platforms is providing free student tuition.
"The number of people with predatory student loan debt is enough to win a three-way presidential race," Stein told supporters and reporters. "Do not accept this predatory idea that we are powerless, we are not."
Later in the evening, Jill Stein supporters blocked traffic by staging a sit in, after a standoff with police they were ordered to move or be arrested. Seventeen were arrested.
From 2100 to 2230 EST, voters will be able to see Stein give her responses in real time to each of the debate questions "livestreamed on Periscope alongside the official Twitter livestream of the debate at Hofstra," according to her campaign. She will also stream on Facebook and answer questions from viewers.
"Online viewers can also read, watch and share individual responses that will be posted on Dr. Stein's Twitter stream. Responses will also be livestreamed via Facebook Live on her Facebook page."
RT will carry her livestream on its Facebook page.
On September 16, the Commission on Presidential Debates, which only represents Democrats and Republicans, told Stein and Libertarian Party nominee Gary Johnson they would be excluded from Monday's debate, because they found Stein had only garnered a 3.2 percent support average, while Johnson had 8.4 percent, both well below the 15 percent threshold set by the commission.
The commission sets the percentage polling average threshold, based on five polls of its choosing. Clinton averaged 43 percent, and Donald Trump 40.4 percent, according to their announcement.
Following the conclusions of the televised debates from 10:30-11:00 p.m. Eastern time, Stein will open up the discussion to the American people and will hold a "Twitter Town Hall" Q&A session with online viewers. The Twitter Town Hall will continue to be livestreamed on Dr. Stein's social media accounts via Periscope and Facebook Live.
"These online initiatives on debate night will ensure that Jill Stein reaches the largest audience reached by a third-party candidate since Ross Perot was included in the debates in 1992," said Stein's campaign.
There are three televised presidential debates, and in past elections the debates can swing elections if a candidate doesn't resonate well with voters. The debate at Hofstra University in New York will feature only the presidential nominees from the Republican and Democratic parties, as has been the case since 1992.
The Green Party candidate is a Harvard-trained physician whose platform includes the mainstream issues of the fight for $15 minimum wage and free college tuition. More progressive approaches are moving the country to 100 percent renewable energy by 2030, cutting defense spending in half and closing more than 700 foreign military bases.
The Stein/Amiri Baraka campaign said it would continue to push for open debates.
You can share this story on social media: