SUV driver who charged through group of student BLM protesters to walk free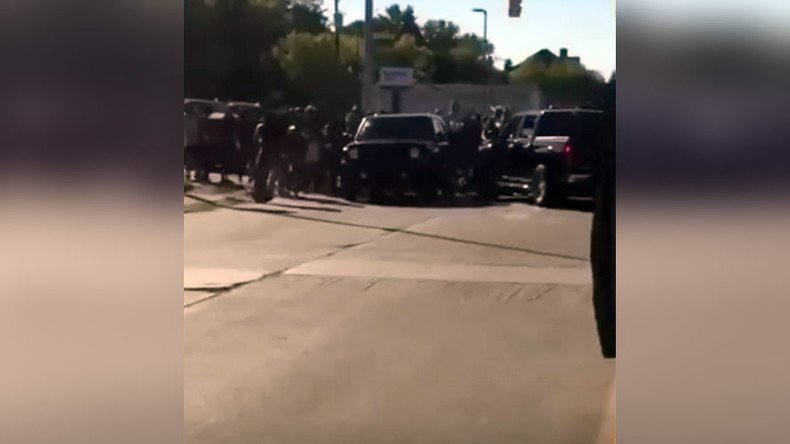 The SUV driver who sped through a group of Michigan University students protesting the sudden appearance of racist graffiti on campus, will face no charges.
Staff members at Eastern Michigan University (EMU) discovered vandals had sprayed red, white and blue racist messages "KKK" and "leave n*****s, outside Julia Anne King Hall, according to the Detroit Free Press.
"This is an issue we take seriously. EMU police is looking into this incident very hard, and we also have detectives investigating how this managed to happened," Daniel Karrick, Deputy Chief, EMU Public Safety told the Eastern Eco.
The hate speech graffiti prompted around 300 Black Lives Matter (BLM) students to rally on Tuesday, and later march to the university president's home, temporarily blocking a street near an intersection in Ypsilanti.
The SUV encountered the group of protesters, drove slowly through the group of students but then accelerated past them. A video captured the car speeding as students screamed in terror.
No one was injured, although the driver did strike a motorcycle.
The SUV driver, identified only as a woman, was questioned by Washtenaw County sheriff's deputies but not charged after the drive-by. No information was given as to why they didn't charge her.
The university president, James Smith, condemned the message and promised to investigate the racist vandalism.
"It scares me that people are so ignorant, so uninformed, and so hateful," said President Smith, EMU.
In a related story, a University of Tennessee law professor Glenn Reynolds, a conservative blogger and newspaper columnist, was briefly suspended from Twitter on Thursday after previously urging 'vehicular violence' against black protesters in Charlotte, North Carolina.
Reynolds, known as @Instapundit, tweeted "run them down," when demonstrators in Charlotte blocked Interstate 85 on Wednesday.
That one Tweet got him suspended from Twitter, a suspension for a month from his bi-weekly column at USA Today, and his university is also investigating him for his "irresponsible use of his platform."
You can share this story on social media: