Police killings of black people reminiscent of lynchings – UN working group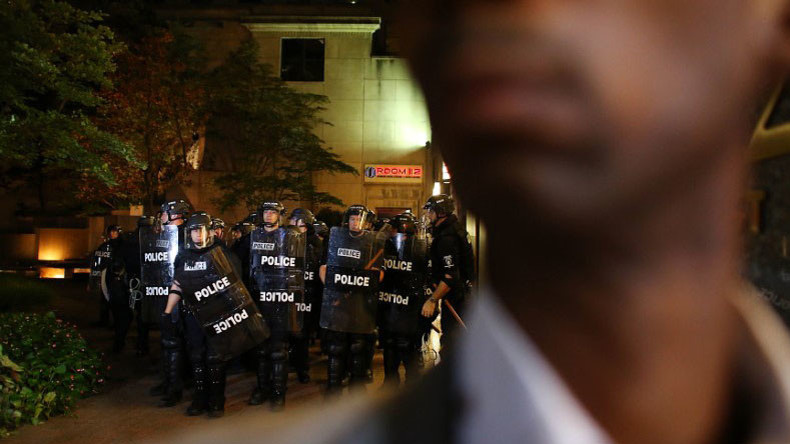 A hard-hitting report published by a United Nations working group has drawn a comparison between the racial terrorism of lynchings in the 19th century in the US, and the killings by modern police of black men.
"Contemporary police killings and the trauma that they create are reminiscent of the past racial terror of lynching," said the report released by the United Nations Working Group of Experts on People of African Descent, according to Reuters. The group will present their findings for debate at a UN Human Rights Council meeting on Monday.
Reuters reported that "most lynching victims died by hanging," and a 2015 report by Equal Justice Initiative found nearly 4,000 black people were killed in "racial terror lynchings' in a dozen southern states between 1877 and 1950."
Among the recommendations is one stipulating that the US government must do far more to protect black people.
"[The] legacy of colonial history, enslavement, racial subordination and segregation, racial terrorism and racial inequality in the United States remains a serious challenge, as there has been no real commitment to reparations and to truth and reconciliation for people of African descent," said the report.
The UN working group was charged with studying the problems of racial discrimination faced by people of African descent living in the African Diaspora, and make proposals for its elimination. The UN also issued a declaration for the International Decade of People of African Descent, 2015-2024, to address the problems of recognition, justice and development.
The five-member group is chaired by Filipino law professor, Ricardo A. Sunga III. It has been tasked with presenting annual reports to the UN Human Rights Council and the General Assembly, preparing thematic publications on the protection of rights of people of African descent, undertaking country visits to review human rights progress for people of African descent, and process cases of alleged human rights violations.
The report, which is the result of a visit by the group to the United States in January, comes shortly after two black men died as the result of police shootings. Last Friday, a white police officer fatally shot an unarmed black man in Tulsa, Oklahoma. This week, Charlotte, North Carolina, erupted in two days of protest and a riot after a black police officer shot a black man, Keith Scott.
"Impunity for State violence has resulted in the current human rights crisis and must be addressed as a matter of urgency," stated the report.
In its findings, the group said police killings go unpunished because initial investigations are usually conducted by the police department where the alleged perpetrator works, because prosecutors have wide discretion over presenting charges, and because the use of force is not subject international standards.
They recommended the US creates a reliable national system to track killings and excessive use of force by law enforcement officials, and end racial profiling, which is "a rampant practice and seriously damages the trust between African Americans and law enforcement officials".
To improve race relations, education should be "accompanied by acts of reconciliation" to overcome bigotry and past injustices, while federal and state laws should recognize the negative impact of enslavement and racial injustice, the report added.