Eyewitnesses dispute police account of Charlotte protester's death (EXCLUSIVE)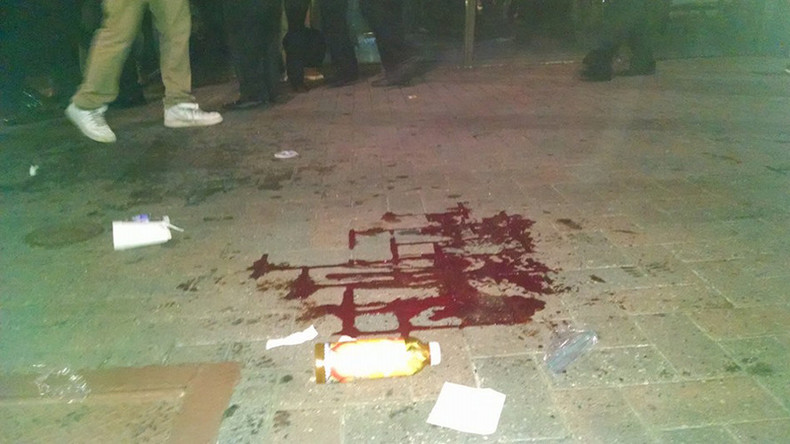 Protests in uptown Charlotte took a violent turn when a protester was shot outside the Omni Hotel. The protester, identified as Justin Carr, has died, and now eyewitnesses tell RT they blame the police. Meanwhile, an investigation is ongoing.
Wednesday night's demonstrations in Charlotte became a riot after the shooting of a protester named Justin Carr. On Thursday, he was pronounced dead after being shot in the head, and tensions risk increasing with witnesses blaming police and the initial police position being it was a civilian-on-civilian attack.
The uprising in Charlotte was inspired by the death of Keith Scott who was shot by police Monday. Some came to protest the police department's refusal to release the footage from the officer in question's dash cam. Others came to show their support for efforts to end police brutality, and some agitators also convened.
The City of Charlotte tweeted Wednesday night that the shooting in uptown Charlotte was "civilian on civilian," and "CMPD did not fire shot." However, other demonstrators dispute that version of events and claim that the police ambushed Justin Carr.
ALERT: Fatal shot uptown was civilian on civilian. @CMPD did not fire shot.

— City of Charlotte (@CLTgov) September 22, 2016
However, in a press conference Thursday, CMPD Police Chief Kerr Putney said he was not sure who actually fired on Carr, but an official investigation has been launched.
Carr was taken to the hospital and put on life support where he was in critical condition until his death Thursday, according to WBTV. He was mistakenly reported dead Wednesday night, with the station citing the police chief. However, that was one of the least controversial aspects of his death.
Those who refute the police narrative are split on whether they believe Carr was hit by a projectile or a rubber bullet.
Hero Vincent, a North Carolina activist, told RT's Ashlee Banks he was on the scene at the time of the shooting.
"I didn't see the canister, so I'm inclined to think it was the rubber bullet," he said, "but it was definitely the officers that were all lined up out here."
"Everyone was shouting at them, because of what just happened," he continued, referencing the protests against the killing of Keith Scott. "It wasn't a civilian, we knew exactly who it was, that's why everyone was targeting those riot police that were standing over there – but it definitely was not a civilian."
Jimmy James Tyson, a "street medic" in the protests, spoke to RT and claimed: "Without hesitation or doubt, I can say there was no gunfire. There's a clear distinction between sound of concussion grenade firing or exploding and a gunshot or a rubber bullet."
Tyson added that he "didn't see any direct violence against police or vandalism until riot police started firing in formation and a protester got shot in the head."
On Facebook, Todd Zimmer, a man claiming to have been standing next to the shot protester, wrote: "I am convinced that police shot this person with a rubber bullet or a tear gas canister," and claimed to have "captured video of police firing into the crowd seconds before the person fell."
Another protester posted an image of a Blast Dispersion Projectile that has been identified as tear gas that he collected.
Steve Knight, minister of Missiongathering Charlotte, also disputed the claims by police.
"I was in the crowd last night, I was very close to it when it happened," he told ThinkProgress.
While he cannot speak with certainty of where the bullet came from, Knight did say: "The strongest thing I can say is that it appeared to me that the shot came from the direction of the police."
He also noted that the crowd had also reached the conclusion that the shot came from the police.
"The crowd certainly believed the shot came from the police – and that was my sense as well from where I was standing," Knight said, noting that he couldn't speak for the other clergy members standing near him. "I saw no one in the crowd last night who had a weapon."
Knight claimed that the altercation "felt like an ambush," and said, "As soon as we were drawn in there by police, tear gas was dropped, police began striking protesters… that's when the shooting occurred."
He went on to cast suspicion on the speed with which city and law enforcement officials were able to declare that Carr had been shot by a fellow protester.
"It was a chaotic situation, and I find it hard to believe that the news media was told so quickly what happened," Knight said. "I don't think anyone could have known what had happened."