Teens charged with 'terroristic threats' after creepy clown abduction posts on Facebook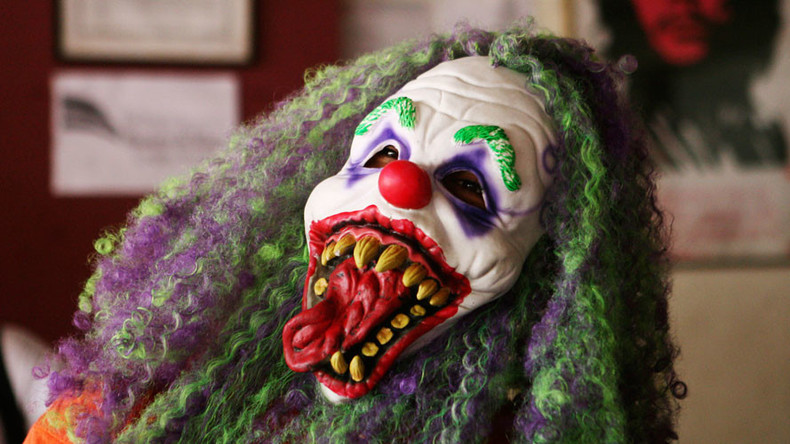 Four teenagers in Georgia have been charged with making "terrorist threats" after allegedly posting Facebook messages threatening to abduct children while dressed as clowns.
The arrests come in the wake of a craze of creepy clown sightings that have spread fear amongst children and parents alike, and prompted police to establish if any real threat exists amidst the hoaxes. Reported sightings also sparked a spate of school closures.
La Grange police were inundated with calls from concerned parents after a Facebook page, which has since been removed, included threats to dress like a clown and drive around in a white van to nearby schools and abduct children.
Two 18 year olds from Georgia, Steven Goddard and Zaria Dallas, and 17-year-old Tristian Bonner from Alabama were arrested for terroristic threats, according to WXIA. A 16 year old was arrested for terroristic threats and disrupting public schools in relation to the threats.
A series of bizarre and threatening clown sightings have been reported in recent weeks, predominantly in the southeastern states of Georgia, Alabama, Kentucky, and North and South Carolina.
The spate of sightings kicked off at the end of August after it was reported people dressed as clowns were trying to lure children into the woods in South Carolina. Police have warned they will prosecute people behind the Facebook pages and hoax sightings.
READ MORE: We all float down here: Clowns luring children into woods
An 11-year-old girl was arrested at a school in Athens, Georgia, on Friday for carrying a knife. She told police she needed the weapon to protect herself and her family against the clowns.
Last week, a school in Flomaton, Alabama, was put on a 'soft lockdown' after some high school students received threatening messages from a 'Flomo Klown' Facebook page.
Police later arrested Makayla Smith, 22, along with two juveniles who were reportedly connected to the page.
Shortly afterwards, another Facebook page named 'Bingerman Clownferd' emerged which carried threats to target schools in the Montogomery area.
Meanwhile, Troy Police Department in Alabama said Monday that two teens were arrested in connection with a similar page. No charges were filed but the related Facebook page was removed.
Police say they have been inundated with reports of clown sightings but, in most cases haven't been able to find the perpetrators. A large number of alleged sightings are believed to be hoax calls.
In Georgia, two people in their 20s were arrested after allegedly making false 911 calls of clown sightings in Hogansville, a city close to La Grange. In Maryland, Annapolis police confirmed Tuesday that reports of clown sightings in the area were made up by children.
Suspicious clowns were also allegedly spotted in Kentucky, with photos emerging on Facebook of apparent sightings.
You can share this story on social media: