Clashes, tear gas, cops injured after 'disabled, unarmed' black man shot dead by Charlotte police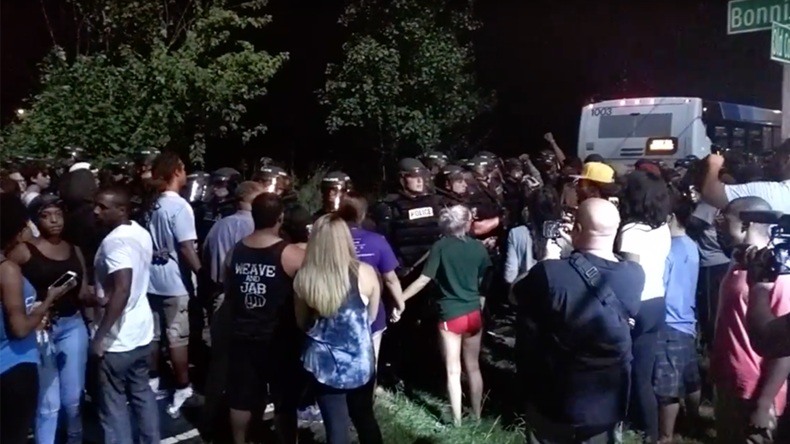 Details of Keith Lamont Scott's shooting in Charlotte, North Carolina, are in dispute as protests and clashes break out and police deploy tear gas. Officers say Scott aroused suspicion after being seen with a gun, but others claim all he had was a book.
At least 100 protesters in Charlotte, North Carolina clashed with police late Tuesday night following the deadly police shooting of 43-year-old Keith Lamont Scott. Tear gas has been deployed and SWAT teams formed after reports of protesters throwing bottles.
Demonstrators began breaking into a nearby Walmart, smashing through several doors. Police later arrived and the protesters began to scatter. Officers are now on guard at the store.
Earlier, protesters blocked Interstate 85 and began looting semi-trucks and starting fires.
Officers have since removed them from the busy highway, allowing traffic to flow once again.
Officers have made multiple arrests.
Live feeds of the protests were shut down after protesters turned their anger towards the media and threw bottles at them.
Approximately 12 officers have been injured, according to the Charlotte police department. One of them was reportedly hit in the face with a rock.
Although police claim Scott was armed with a gun, relatives and witnesses are countering the police narrative, denying allegations that Scott was armed. They say all he had was a book.
Peaceful protesters are reportedly urging others to refrain from violent outbursts, what have so far been reported as bottle throwing.
The city's mayor has also asked for calm.
Scott was killed Tuesday after police noticed him standing in front of an apartment complex they were going to enter to serve a warrant on someone else.
Scott's brother told reporters that Scott was waiting for his son to get home from school when an officer jumped out of his vehicle without a uniform.
"He was an undercover, he just jumped out and yelled 'gun' and shot him," he told WSOC.
A statement from the Charlotte-Mecklenburg Police Department claimed that they were on the scene to arrest a different person when they saw Scott exit his vehicle with a firearm and then get back in. When officers approached, they claim Scott exited the vehicle "armed with a firearm and posed an imminent deadly threat to the officers who subsequently fired their weapon striking the subject."
Police say the firearm "the subject was holding at the time of the shooting" has been recovered, WNCN reported.
However, merely carrying a gun is unlikely to have been an offense in the first place given that North Carolina requires no additional permit to openly carry a weapon.
Regardless, Scott's family disagrees with this narrative and claims that it was not a weapon, but a book. A woman identifying herself as Lyric Scott, his daughter, spent over an hour on Facebook Live recounting eyewitness statements who claim that Scott was shot four times and that he wasn't breathing when they removed him from the scene. Scott died at the hospital, a fact that Lyric would learn from the news while livestreaming.
The Facebook Live and account of the witness has since been taken down.
Before learning about Scott's death, the woman bemoans the 20 minutes it took for Scott to receive help.
"CMC is right down the street," she commented, referring to the Carolinas Medical Center where he was pronounced dead.
She also commented that the place where Scott was shot was where he would go read, because he couldn't do anything else. She also claimed that her father was afraid of the police.
Another man used Facebook Live to talk to an older gentleman who claimed to be a witness, who stated that he saw the book in Scott's hands. The man also said that Scott was disabled and standing in the same place where he waits for his son every day.
The officer who shot him has been identified as Brentley Vinson, a CMPD metro officer since July 2014, according to WSOC.
You can share this story on social media: