34% have $0 in savings: Americans' money habits go 'from bad to worse', report finds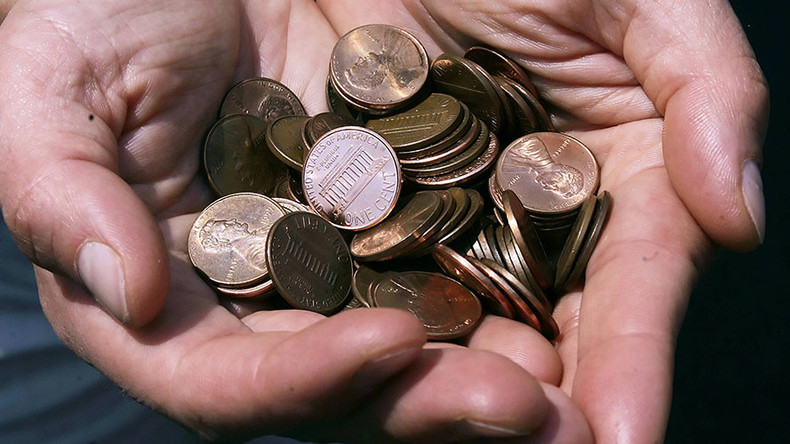 Americans are dipping into their savings, if they have any, even more than they did last year, a new survey finds. Nearly 70 percent of Americans report having less than $1,000 in savings, and the pattern touches all age groups.
Even those making $100,000 to $149,999 a year had less than $1,000 or nothing at all in savings 44 percent of the time, according to GoBankingRates.com, which released its findings Monday.
Spendthrift habits seem to have increased from last year, when the Los Angeles-based financial website found 62 percent of more than 5,000 adults had less than $1,000 in savings. This year's survey asking the same question to more than 7,000 adults, 69 percent of whom said their savings account total lacked a comma. Half of those, 34 percent, had saved a big fat goose egg, an increase of 6 percent from the year prior, when 28 percent reported having $0 in savings.
The recent survey, conducted between August 1 and 9, found 15 percent of Americans had $10,000 or more in their savings. The same percentage had between $1,000 and $9,999, but most, 11 percent, had between $1,000 and $4,999.
"I am not at all surprised that one-third of Americans have nothing at all in their savings account," Michael Hardy, a certified financial planner with Mollot & Hardy in Amherst, New York, told GoBankingRates. "Most people have not saved nearly enough in their emergency or reserve account."
Brandon Hayes, a CFP and vice president of oXYGen Financial, told the website that a proliferation of cashless payment options was not helping matters.
"With a cashless society, it's tough to appreciate a dollar when you never see one," he said.
The survey doesn't show exactly how people spend their money, but technological aptitude seems not to play much a role in people's habits when it comes to money management. Certainly age did not.
Young millennials, the survey found, were about as likely to have zero dollars saved up as any other generational group. Thirty-one percent of those 18-24 years old had $0 in savings, compared to 33 percent of those aged 25-34, 35 percent of those between 35 and 44 years of age, 37 percent of those 45 to 54 years old, 33 percent of baby boomers, and 33 percent of seniors older than 65.
Older millennials and seniors were slightly better savers than the other age groups, but the more visible gaps fell along income and gender lines.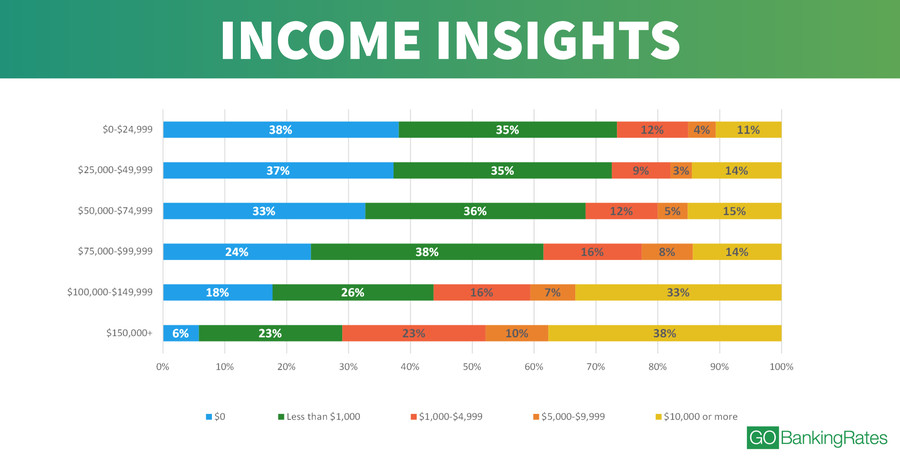 Those making less than $25,000 saved just slightly less than those making between $25,000 and $49,999, with 35 percent in each group maintaining less than $1,000 in savings. It's still just 36 percent for those making between $50,000 and $74,999, but that bracket is where the percentages begin to dramatically drop for those who have absolutely nothing to show for their savings.
People who make over $150,000 a year were as likely to have $10,000 in savings as those at the bottom bracket had of having $0 in savings, 38 percent. However, it is still alarming to consider that 23 percent of those making above $150,000 annually have less than $1,000 in savings.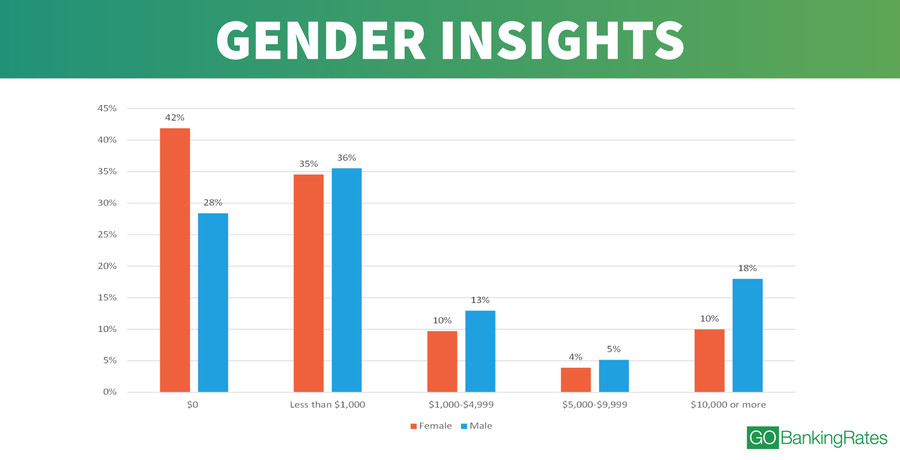 Another clear difference in savings habits is seen when comparing women and men. A striking 42 percent of women had $0 in savings, compared to 28 percent of men. At the $1,000 or less level, however, the gap nearly closed with 35 percent of women and 36 percent of men. The gap considerably widens again at the point when a person has at least $10,000 in savings, with 10 percent of women meeting that mark and 18 percent of men doing so.
The survey did not account for where people lived, but the authors acknowledged that to "live comfortably" in Los Angeles, "you need to make about $74,000 a year." In order to follow a 50/30/20 lifestyle where 20 percent of one's paycheck is saved, 30 percent spent leisurely, and 50 percent spent on necessities, a "comfortable" person in Los Angeles ought to save nearly $15,000 yearly.
In 2014, the real estate website Zillow reported that the per capital individual income in Los Angeles was $27,749. Saving money may be assumed to be less difficult in less expensive cities.