Trump misused charity funds to settle business lawsuits & buy giant self-portraits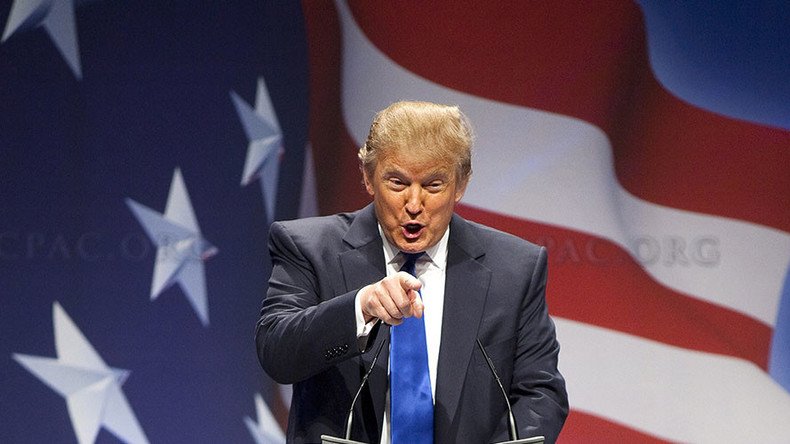 Republican presidential candidate Donald Trump spent more than a quarter of a million dollars of funds from his charity, The Donald J. Trump Foundation, to settle lawsuits involving his own businesses, according to tax records. Expenditure records also reveal the charity's money was used to buy a self-portrait of the tycoon.
The Washington Post reviewed a series of legal documents and discovered a total of $258,000 was taken from the charity to settle lawsuits involving the billionaire's for-profit businesses.
"Self-dealing" laws prohibit nonprofit leaders from using charity money to benefit themselves or their businesses. If Trump's practices are found to be in violation of these laws by the Internal Revenue Service (IRS) he could be ordered to pay penalty taxes or reimburse the foundation.
These latest revelations include a 2007 case involving Trump's Mar-a-Lago Club in Palm Beach, Florida. The club accumulated $120,000 in unpaid fines from the town after a dispute over the size of a flagpole.
A settlement was agreed where Trump would pay $100,000 to a veteran's charity. This donation came directly from The Trump Foundation, according to tax records seen by The Washington Post.
Court filings from another case show that one of Trump's golf courses in New York settled a lawsuit by agreeing to donate to a charity of the plaintiff's choice – tax records once again show this payment was made by The Trump Foundation.
The investigation into the charity's expenditure also reveals that $10,000 was spent on a self-portrait of the billionaire, bought at a charity fundraiser in 2014 – and $5,000 was used on an advertising campaign for Trump's hotels in 2013.
This is the second self -portrait Trump has bought with the charity's money. He bought a six-foot portrait of himself in 2007 for $20,000.
READ MORE: Pay to play? Donald J. Trump Foundation has 'dubious' and 'surprising' practices — report
Previous analyses of Trump's charity have noted dubious practices and put it under the scrutiny of the office of the New York attorney general, which opened an investigation into whether the foundation broke state charity laws last week.
An earlier report by The Washington Post revealed that the foundation donated $25,000 to a political group supporting Florida Attorney General Pam Bondi during the time her office was considering legal action against Trump University.
Trump was later fined $2,500 by the IRS for making a political contribution through a tax-exempt charity and ordered to reimburse the charity.
According to the foundation's tax records, Trump has not donated to his own charity since 2009 – but remains its president and works on it one half-hour a week.
Trump has been outspoken in his criticism of the Clinton Foundation and has blasted it as a pay-for-play operation.
He has called for an independent special prosecutor to be assigned to investigate its activities.
However, documents released last month revealed the Trump Foundation has also donated to the Clinton Foundation, giving Bill and Hillary's charity $100,000 in 2009.
The Trump campaign has yet to respond to the latest revelations surrounding the Trump Foundation.
READ MORE:#PayToPlay: State Dept to reveal Clinton's meetings with possible donors only after election
You can share this story on social media: