'Don't succumb to fear' - Obama following attacks in New York and New Jersey (WATCH VIDEO)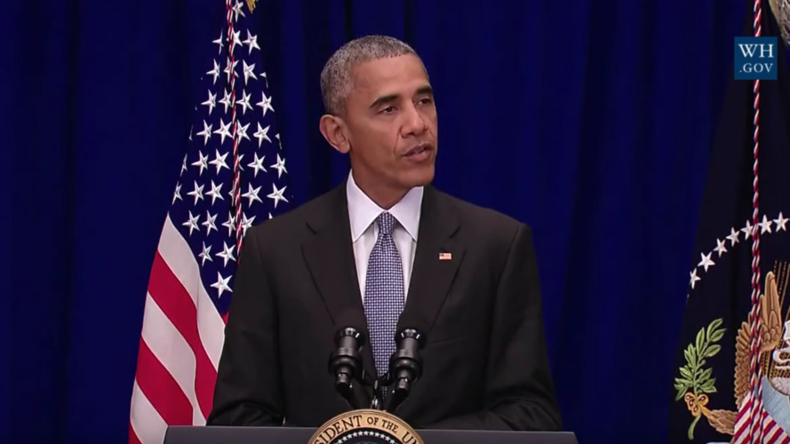 President Barack Obama assured Americans that investigations into the attacks in New York, New Jersey and Minnesota are "moving rapidly." In a statement delivered Monday he spoke of the measures government is taking to prevent further attacks.
Speaking in Manhattan, where he's attending the United Nations refugee summit, Obama called on citizens to be vigilant, but not to "succumb to fear."
An explosion in the Chelsea neighborhood of New York injured 29 people on Sunday and was followed by a blast at a railway station in Elizabeth, New Jersey.
A man with a knife injured nine people at a mall in Minnesota, reportedly asking one of his victims if they were Muslim, before being shot dead himself.
Obama stressed there was no known connection between the New York and New Jersey incidents and the Minnesota attack, but said the FBI are investigating the shopping mall mass stabbing as a potential act of terrorism.
The president praised law enforcement and first responders for "moving smartly" on the investigations and working seamlessly to ensure justice is done.
"The investigation is moving rapidly," he said. "As is my practice, I'm going to leave it up to the FBI and law enforcement to provide details."
Obama said law enforcement is looking for the help of the community. "If you see something suspicious, then you need to say something," he said.
"In the meantime I ask that the press to keep from getting ahead of the investigation," he added.

He assured the room that federal, local and state authorities are working together to prevent terrorism, and that the government will "enlist tech companies, community and religious leaders to push back on extremist content."
Turning to Islamic State (IS, formerly ISIS/ISIL) IS, Obama said the US will continue to "lead the global coalition" against the group. "We're gonna continue go after them, we're going to take out their leaders, their infrastructure."

"They are continuing to lose ground in Iraq and Syria," he added. "As we take more of their territory it exposes ISIL for the failed cause that it is."
Obama said he will meet with Iraqi Prime Minister Haider al-Abadi to discuss "the need to sustain that momentum," later Monday.
He reminded the audience that the aim of terrorism was to "inspire fear in all of us" and "undermine our values."
"We all have a role to play as citizens to make sure that we don't succumb to that fear," he said. "There's no better example of that than the people of New York and New Jersey."
You can share this story on social media: