2nd 'potential bomb' safely removed from Manhattan scene - police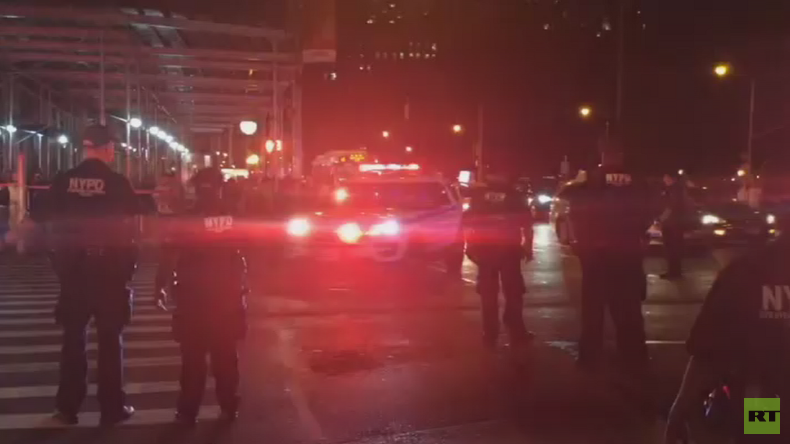 A "potential" second explosive device has been safely removed by the NYPD Bomb Squad from a site near the Manhattan area which was hit by a probable homemade pipe bomb earlier in the day.
As a "precautionary measure" the NYPD asked residents at the site of the second suspicious device on 27th Street to evacuate the area. People have beeg urged to stay away from windows as police proceed to "clear the suspicious package."
The suspicious package on 27th Street between Sixth and Seventh avenues was discovered as authorities examined the area following the first "intentional" explosion that left 29 people injured in the Chelsea neighborhood of Manhattan.
After the initial outdoor explosion occurred at 135 23rd Street, between Sixth and Seventh avenues, federal and city authorities established a safety parameter, within which they later discovered the second "suspicious" package.
The second device a few blocks from the scene of a Manhattan explosion appears to be a pressure cooker attached to wiring and a cellphone, CNN reports citing sources.
The FBI Joint Terrorism Task Force, the Federal Bureau of Alcohol, Tobacco and Firearms and a New York arson and explosives task force are assisting in the the investigation. The NYPD stressed that despite the precautionary measures they were "not evacuating the area."
While NY city mayor Bill de Blasio previously claimed that there was "no specific and credible threat against New York City," the discovery of the second package could challenge that claim, especially after another improvised device exploded on Saturday morning in New Jersey, just across the Hudson river.
READ MORE: Pipe bomb detonates along route of 5km US Marines charity race in New Jersey
"Actually, it was a very loud explosion that has shaken the entire building. The area was packed with the people and the security [guards] have evacuated everyone within five minutes," Camelia Entekhabifard, an eyewitness, told RT on Sunday.
"It's not a common thing in Manhattan, I've been here even during 9/11 and I guess that sort of memory has been washed off, and I'm feeling that this explosion will have an impact not only on the people but on the [UN] General Assembly which is starting on Monday."
You can share this story on social media: