A throne fit for a king: Golden toilet available for use at the Guggenheim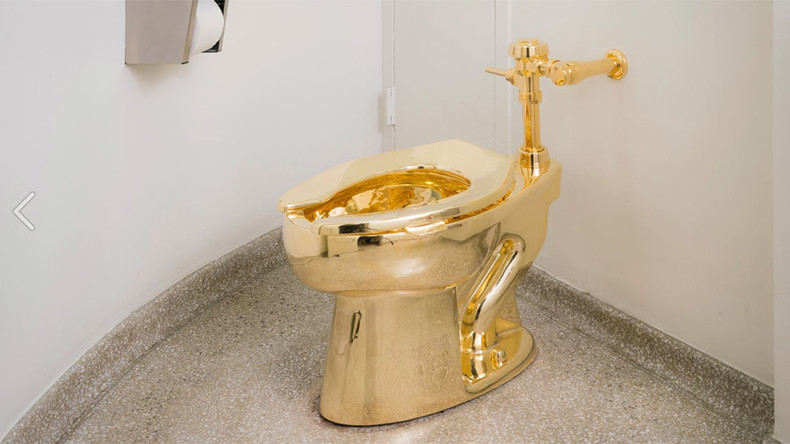 Few art galleries encourage patrons to physically touch their art. Even fewer welcome visitors to sit on it. But the Guggenheim became the exception to the rule when they invited guests to use Maurizio Cattelan's solid gold toilet.
"America" by Maurizio Cattelan is an 18-karat gold toilet that is fully functional and open to use by Guggenheim guests starting on Friday. The piece is meant to be provocative in both its name as well as function.
Brooklyn Museum Curator Nancy Spector worked closely with Cattelan and explained that the piece is more than just a shiny toilet; it's also a full experience.
"People will most likely wait in line...and individuals will use it one at a time. There will be a security guard outside who will explain to people what the piece is ... And then people will use it as they would a bathroom," Spector told NPR.
She explained that the piece is also meant to challenge the typical experience of going to a museum.
"The fact that it is very welcoming, inviting for anyone to use, gets to the heart of a lot of questions around exclusivity in the art world and in museums in particular," Spector said. "And this notion of having a very intimate, private experience with a work of art, and a work of art that speaks quite dramatically about its own value, is fascinating on many levels."
The Guggenheim's perfectly titled blog post "Game of Throne: Maurizio Cattelan's 'America' Comes to the Guggenheim" explains that allowing visitors to use the toilet could push the piece to its practical limits.
"It will be a test of the piece," Cattelan said.
Of course, the post also mentioned the possibility of the piece being a political statement against the only American politician who probably already owns a solid gold toilet (although other world leaders have had the finger pointed at them). Cattelan explained that the piece's conception predates Donald Trump's rise to the top of US politics, but "it was probably in the air," he said.
He acknowledged that the Trump connection offers "another layer, but it shouldn't be the only one."
Overall though, much of the piece is centered on making the finest art accessible for everyone. While he prefers that the audience interpret the work, he jokingly called it "one-percent art for the ninety-nine percent."
You can share this story on social media: