'I feel good': Clinton says illness helped her connect with Americans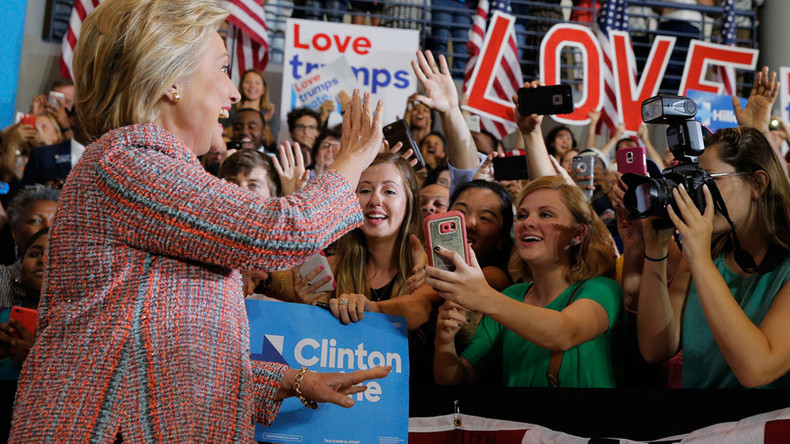 Democratic presidential candidate Hillary Clinton walked on stage to the blasting of James Brown's "I Feel Good" before speaking to supporters in North Carolina. She used her first post-pneumonia speech to talk about healthcare.
"I certainly feel lucky – when I am under the weather, I can afford to take a few days off. Millions of Americans can't. They either go to work sick or they lose a paycheck," Clinton told the crowd in Greensboro, North Carolina, after three days of recovering from pneumonia.
Clinton said her recent time off gave her a wake-up call, which reminded her why she's running for president.
"They toss back some Tylenols, chug some orange juice and hope the cough or virus goes away on its own," said the candidate, according to The Hill.
She said the time off the trail gave her time to "reconnect with what this whole campaign is about."
"I have met so many people living on a razor's edge, one illness away from losing their job, one paycheck away from losing their job," she said.
Clinton took time off the campaign trail after a video of her stumbling into a van supported by aides after a 9/11 memorial ceremony in New York on Sunday went viral. The video prompted concerns about her health. Her campaign initially said she became dizzy and dehydrated during the service. Later they acknowledged that Clinton had been diagnosed with pneumonia on Friday.
Among her campaign goals for healthcare, the candidate proposed expanding the Affordable Care Act to more people, and supporting people over 55 years old to buy into Medicare. Other goals included reducing the costs of copays and deductibles, and reducing the cost of prescription drugs. She also plans to protect consumers from unjustified prescription drug price increases, expand healthcare to families, regardless of immigration status, and examine telehealth for rural families. She will support reproductive health care and double the funding for community health centers.
Clinton's incident prompted new questions about both candidates' openness regarding their health. Republican presidential nominee Donald Trump released a new letter from his doctor showing his blood pressure, cholesterol and medications, one day after Clinton made a public letter from her physician with similar information. Both doctors say their patients are fit to serve as president.