Trump Jr criticizes Clinton 'surrogate' media with 'gas chamber' remark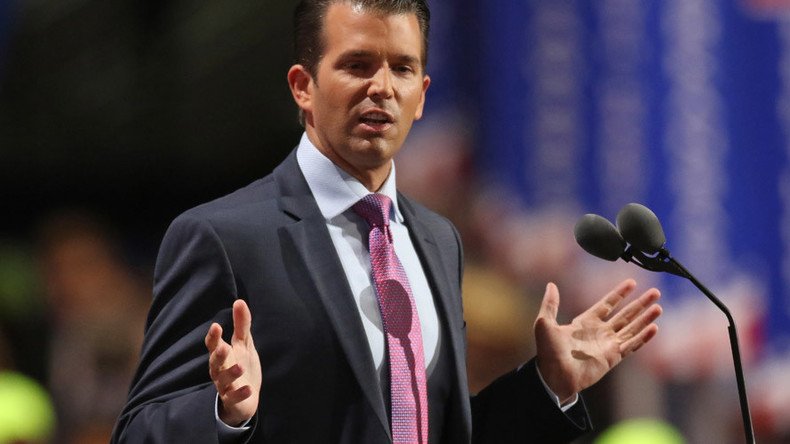 Donald Trump Jr invoked Holocaust symbolism when criticising media that are supportive of Hillary Clinton and critical of his father, contending that if Republicans acted the way Democrats do, the press would be "warming up the gas chamber right now."
The apparent reference to the Holocaust prompted outrage on social media.
Speaking to Philadelphia radio station WPHT, Trump Jr told presenter Chris Stigall how his billionaire businessman father has had to contend with a barrage of media bias against him.
"The media has been her (Clinton) number one surrogate in this [presidential race]. Without the media this wouldn't even be a contest. But the media has built her up, they've let her slide on every indiscrepancy, on every lie".
In reference to the Democratic Party's nomination process, Trump Jr said the Democrats had played a "game" with candidate Bernie Sanders.
"I mean, if Republicans were doing that they [the media] would be warming up the gas chamber right now. There is nothing fair about it," he said.
Political lobby group, the National Jewish Democratic Council, have now hit out at Trump Jr for apparently alluding to the Holocaust.
"Donald Trump Jr's reference to gas chambers is outrageous," the group said in a statement.
"With its allusions to the Holocaust, remarks such as these have no place in a presidential campaign."
The comments have created a stir online, with independent conservative politician Evan McMullin calling the comments an "unsurprising Nazi reference".
Clinton and Trump are scheduled to go head-to-head in the first presidential debate on September 26.
You can share this story on social media: