Take me instead: WikiLeaks' Assange asks Obama to pardon Manning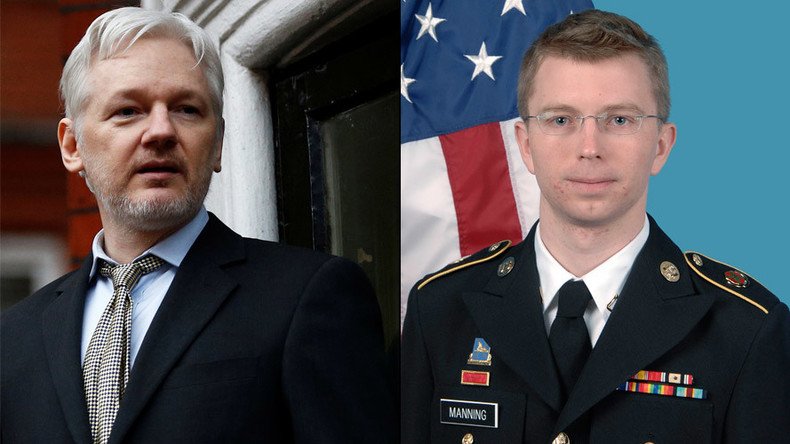 WikiLeaks co-founder Julian Assange has offered to serve time at a US prison if President Barack Obama would pardon Chelsea Manning, the whistleblower who handed Wikileaks US military and diplomatic documents in 2010.
Manning is currently serving a 35-year sentence at the US Disciplinary Barracks in Fort Leavenworth, Kansas.
Assange, an Australian national, has been trapped inside the embassy of Ecuador since August 2012, when he requested asylum to avoid being arrested and extradited to Sweden, claiming he would then face unfair trial in the US.
"The staff are being extremely helpful in allowing him to stay but it is an embassy, it is not a even a prison, it doesn't have the services available in any standard prison," Assange's lawyer Melinda Taylor told RT.
"His rights have been violated. His right to protection against arbitrary detention, his presumption of innocence, his right to a fair trial, his protection against cruel and inhumane treatment - all of these rights have been violated," Taylor added.
Manning is facing indefinite solitary confinement after attempted suicide in August. She says she is bullied by prison and military officials, and requires treatment for gender dysphoria. Last week, the whistleblower resorted to a hunger strike to highlight her plight.

"I have asked for help time and time again for six years and through five separate confinement locations," Manning said in a statement issued through her attorneys. "My request has only been ignored, delayed, mocked, given trinkets and lip service by the prison, the military, and this administration."

"Until I am shown dignity and respect as a human again, I shall endure this pain before me," Manning concluded.

On Tuesday, the Department of Defense said that Manning would qualify for gender reassignment surgery under a new directive going into effect October 1.
You can share this story on social media: