Suspect in 9/11 anniversary arson attack on Florida mosque arrested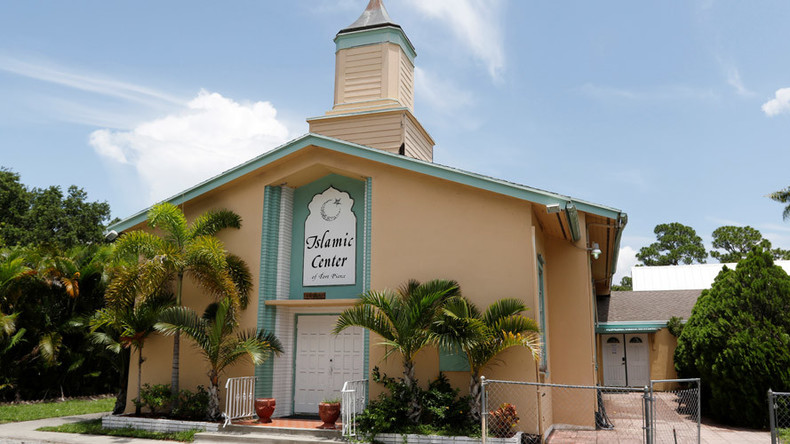 A man suspected of starting the fire that heavily damaged the Islamic Center in Fort Pierce, Florida has been arrested. The crime was committed on the 15th anniversary of the 9/11 terror attacks.
"A fire at any place of worship is a tragedy. Early evidence led to us to believe this was an arson attempt," St. Lucie County Sheriff's Chief Deputy Garry Wilson told reporters on Wednesday. "An arrest has been made 65 hours after the fire was started."
The sheriff's office said they arrested Joseph Michael Schreiber, 32, who had a previous conviction for armed robbery. The sheriff said they followed up on community tips and surveillance footage, which showed a man leaving the mosque on a motorcycle.
After obtaining a search warrant to investigate Schreiber's home, a motorcycle found there matched the one seen on surveillance footage. Police were still at the home collecting evidence at the time of the Wednesday evening news conference.
Investigations into Schreiber's social media use showed he had posted anti-Muslim rhetoric to his Facebook page, references to the September 11 terrorist attacks, and showed he supported the state of Israel.
The Islamic Center of Fort Pierce sustained extensive damage when it was set late Sunday on the 15th anniversary of the 9/11 terror attacks. The blaze also coincided with the Muslim holiday of Eid al-Adha. No one was injured. The fire burned a 10-by-10-foot hole in the roof at the back of the mosque's main building and blackened its eaves with soot.
Surveillance video showed a man on a motorcycle approaching the building with a bottle of liquid and some papers, then leaving when there was a flash and shaking his hand as though he may have burned it, according to St. Lucie County sheriff's spokesman, Major David Thompson.
The FBI and the federal Bureau of Alcohol, Tobacco, Firearms and Explosives have joined the investigation.
Schreiber is facing a possible second degree charge of arson, but if a hate crime charge is applied, he could be charged with first degree arson, which means up to 30 years in prison. As a previously convicted felon, he could be sentenced to a mandatory minimum of 30 years or life in prison.
The Florida mosque was the same one occasionally attended by Orlando nightclub gunman Omar Mateen.