Deal reached on record $38bn US military aid to Israel, signing set for Wednesday
Published time: 13 Sep, 2016 12:48
Edited time: 14 Sep, 2016 12:47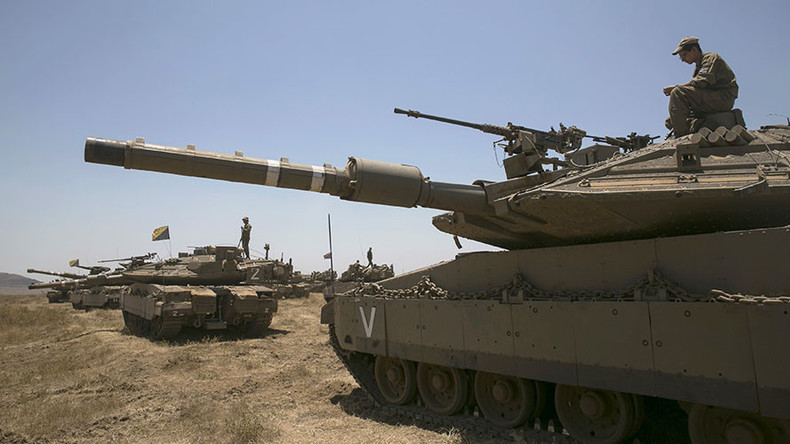 The US and Israel have agreed on a $38 billion military aid package over the next 10 years. Junior officials will sign the pact Wednesday. The deal will become the biggest pledge of US military assistance to another country in history.
The new aid package will see Israel receive $3.8 billion per year from Washington, an increase of $700 million from the current $3.1 billion, sources told Reuters. However, the figure fell short of the annual $4.5 billion that Israeli Prime Minister Benjamin Netanyahu had been seeking.
Though Israel had previously expressed willingness to wait for the US elections before signing the deal, Netanyahu's government suddenly reversed its position and agreed to the US proposal.
The terms of the deal, which is classed as a memorandum of understanding (MOU), will include money for Israel's missile defense program. This had previously been funded by Congress on an informal basis.
The existing arrangement allowed Israel to spend just over a quarter of the aid given by Washington on weapons from its domestic defense industry. Under the new terms, that will be phased out gradually over the next decade.
However the new MOU will not be signed between President Barack Obama and Netanyahu, who have had a frosty relationship due to the US leader's support for last year's Iranian nuclear deal, which was bitterly opposed by Israel. Lower-ranking officials will sign the paperwork, as has been the case with previous deals.
The plan for an increase in military aid to Israel has enjoyed strong support in Congress. In April, 83 US Senators – 51 Republicans and 32 Democrats – sent a letter to the White House urging an increase in financial support. The effort was spearheaded by South Carolina Republican Lindsey Graham and Delaware Democrat Chris Coons.
"In light of Israel's dramatically rising defense challenges, we stand ready to support a substantially enhanced new long-term agreement to help provide Israel the resources it requires to defend itself and preserve its qualitative military edge," the letter said.
It is believed that Netanyahu agreed to the deal before November's US presidential election to avoid uncertainties surrounding what will happen when the new leader takes office.
Not everyone has been impressed with the military aid package set to be signed between the two allies. A Washington DC non-profit group is suing the US government, challenging its authority to provide Israel with foreign aid and arguing that its status – a nuclear power which did not sign the Nuclear Non-proliferation Treaty – means that aiding it contravenes US law.
"This lawsuit is not about foreign policy. It is about the rule of law, presidential power, the structural limits of the US Constitution, and the right of the public to understand the functions of government and informed petition of the government for redress," stated the complaint filed by Grant F. Smith, director of the Institute for Research: Middle East Policy (IRmep).