'Unprecedented': Over 200 Long Island Univ. students protest in solidarity over faculty lockout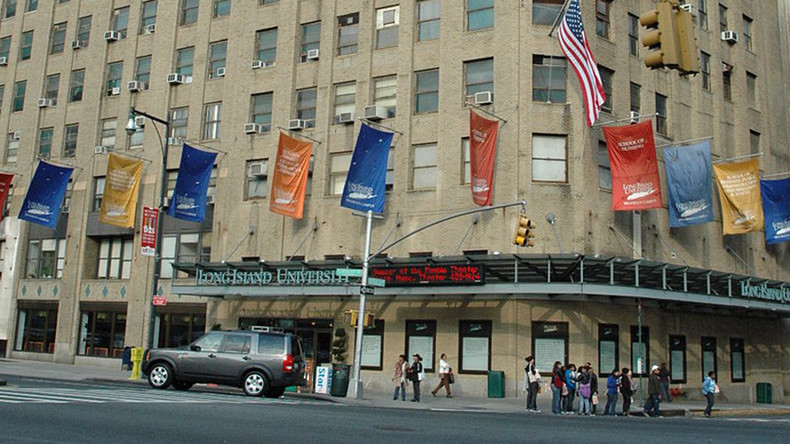 Over 200 students chanting, "you say Lock-out, we say walk-out!" and "join us! Join us!" staged a walk out at the Brooklyn campus of Long Island University on Monday in solidarity with teaching faculty members who were locked out of their jobs 10 days ago.
Faculty at the Brooklyn campus of Long Island University had been in the middle of new contract negotiations, after their previous one expired at the end of August, when administrators decided to bar the entire teaching faculty from the campus. The move occurred at midnight on September 2, and since then more than 400 faculty members have received no pay, had their health insurance suspended, and they have been blocked from their work email.
Meanwhile, LIU administrators hired temporary workers and moved non-union staff to teach students.
The move has "unified faculty like never before and has now unified the students like never before," Professor Ralph Engelman, vice president of the Long Island University Faculty Federation (LIUFF), the union negotiating with schools' administrators, told RT. He said that faculty was "left surprised, then angry."
"We were negotiating our five year contract that ended [August 31] and before we even had a chance to present the administration proposal to the full membership, the day after Labor Day, the management preemptively locked us out, which is unprecedented in American history," Engelman, who is also chair of LIU's journalism department on the Brooklyn campus, said. "We saw it as intimidation. Healthcare was taken away, we stopped being paid, and our access to university email was blocked."
LIU is a private college with campuses in Brooklyn and Nassau County. The lock-out only involves faculty at the Brooklyn campus, as the other campus' faculty renegotiated a three-year contact recently. The Brooklyn campus attracts about 8,000 students, with 240 full-time faculty and 400 adjuncts. There is a flat tuition fee of $35,000, or $40,000 for those who live in dorms.
Many students said classes that began last Wednesday were disorganized, that teachers were handing out syllabi but cutting classes short, and not teaching.
"We're aren't planning to go back to class at all until our professors are back," Sharda Mohammed, a sophomore studying philosophy, told Gothamist. "I walked into my English class and the guy gave us a syllabus and told us we could leave. He couldn't even pronounce the names of the books."
"They are charging us full tuition for this, and they're not teaching us. I was in class for five minutes," she added.
Engelman said one of the issues they were negotiating was that they found out starting salaries for full-time faculty at the Nassau County campus were 20 percent higher than at the Brooklyn campus, and they wanted to resolve the disparity. The other stumbling block was the status of part-time faculty. The university suggested that it take from the higher salaries of those faculty in "give backs" to make up for the funding gap with full-time faculty. He said 96 percent of faculty have rejected the contract since the university staged its lockout.
LIU saw the breakdown in negotiations differently.
"It's disappointing that the LIUFF has rejected a contract offer that the University believes is generous and highly competitive," said Gale Haynes, vice president and chief operating officer at LIU, in a statement. "The university will continue to bargain in good faith…"
LIU argued its faculty and adjuncts were well compensated when compared to peers at other institutions, and its fringe benefits exceeded industry standards. Under the previous contract, the starting salary for a full-time professor at the college was $80,000, with the new contract due to raise salaries to $91,000.
According to the university, what triggered it to enact the lockout was a vote by the union in May to authorize a strike during contract negotiations.
"The LIU Brooklyn contract has a no-strike no-lockout clause, as is commonplace in most contracts. As the contract expires, each party has a right to react. While the lockout instituted by the University is an isolated incident, five out of the last six contract negotiations have resulted in a strike votes by the LIU Brooklyn faculty – including one lasting nearly two months," said the statement.
Engelman said the Brooklyn campus is like a "colony" of Long Island University.

"[Because] the administrative center of the university is on Long Island adjacent to the Post campus, most of the trustees are from Long Island as are officers of the university, a kind of clique of wealthy, mostly male, mostly white, North Shore Long Island residents," Engelman told RT. "The character of the Brooklyn campus is very different. It is very diverse historically. Its mission has to be educate first generation college students, the first in their families to go to college, so there is a cultural gap between our suburban campus and our urban campus and the administrators and its board of trustees are much more comfortable with the privileged suburban campus."
Since the lock-out, non-union staff have been "teaching" classes, and temporary workers have been hired.
"The vast majority of the classes are being covered by staff members who could be fired if they refuse to do this," Engleman told RT. "I am in touch with someone who is teaching my class, he feels terrible and so yes, they are replacement workers but we are not calling them scabs."
Under federal law, during a lock-out, a 'corporation' can only hire temporary workers, and locked out workers are entitled to unemployment.