Arson: Florida mosque 'attended by Orlando shooter' set ablaze (PHOTOS)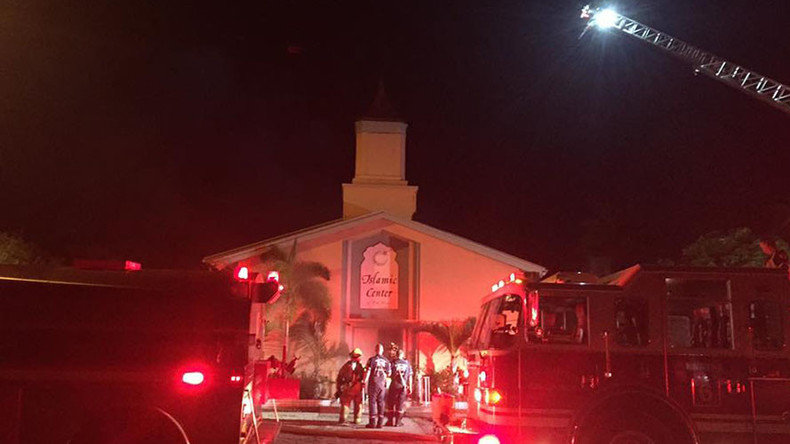 A huge fire that broke out overnight at the Islamic Center of Fort Pierce – known as a place where Orlando shooter Omar Mateen used to pray – is now believed to have been set on fire intentionally.
"Videotape captured an individual approach the east side of the building. Immediately after the individual approached the flash occurred and the individual fled the area," Major David Thompson of the St Lucie County Sheriff's Office, told press at the scene, adding that the incident is being investigated as an arson case.
St. Lucie County Sheriff's Office received a call reporting that flames could be seen coming from the center at about 12:30 am local time.
The FBI and the Federal Bureau of Alcohol Tobacco and Firearms will be helping local police with the investigation, Major Thompson said.
There have been no reports of injuries and the extent of damage to the building is currently being determined.
The mosque closed at around 11:30 pm on Sunday after the last worshippers had left the building, the head of the Council on American-Islamic Relations said, according to Palmbeachpost.com.
The Islamic Center of Fort Pierce came into the spotlight when its imam, Syed Shafeeq Rahman, admitted to the media that Omar Mateen had been one of its worshippers. On June 12, Mateen shot 49 people dead and wounded 53 at the Pulse night club in Orlando, Florida, before being killed by police.
Moner Mohammad Abu Salha, a US-born Islamist recruit who blew himself up in Syria in 2014, is also said to have attended the mosque.
The mosque stepped up security during the summer after receiving a number of threats, CBS12 reported in June.
Technicians are currently trying to enhance the quality of the surveillance camera footage, and officials are planning to ask the public to assist in identifying the suspect.
The Islamic Center expected to welcome over 100 people for the beginning of Eid al-Adha, the four-day Islamic festival of sacrifice. The celebrations must now be held elsewhere.
You can share this story on social media: