CCTV footage shows Florida cop's 'over aggression' towards black woman he accused of battery (VIDEO)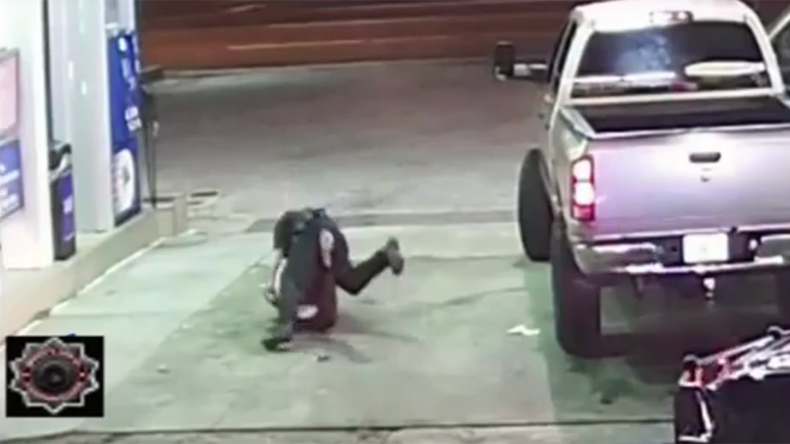 The case of a Florida woman charged with battery of a law enforcement officer has been dropped after video footage shown in court revealed "over aggression" from the officer during the alleged incident.
Paige Taylor, 26, from St Petersburg, Florida was charged for allegedly shoving a cop in March. However, her case has been dropped by the Pinellas-Pasco State Attorney's Office, Bay News 9 reports.
Around 9.30p.m. on March 25, Deputy Wayne Wagner pulled over a truck that Taylor was traveling in for having the wrong license plate attached. The driver, Gage Moore, 25, switched seats with passenger Taylor because he was driving on a suspended license. Moore was arrested at the scene and the vehicle impounded.
Surveillance footage from the gas station, where the couple's pickup truck was stopped, shows Taylor exiting the vehicle while the officer stands at her door.
He then grabs her and slams her against the side of the truck before dragging her to the ground and kneeling on top of her.
Wagner alleged in his written report of the incident that Taylor, who has no previous record, aggressively approached and shoved him while trying to grab her driving license back from him.
"The video doesn't show a clear touch," Chief Assistant State Attorney Bruce Bartlett said of the incident. "The deputy was a little overaggressive in taking her down and the case didn't have jury appeal."
Taylor is now calling for Deputy Wagner, to be disciplined for his aggressive behavior towards her. "He slammed me to the ground pretty bad and I actually went face first," she said of the incident.
The Pinellas County Sheriff's Office confirmed to Bay News 9 that they had received a complaint from an attorney in relation to the incident,but could not comment further until an investigation into the allegation was carried out.
Wagner has been with the St Petersburg Police since October 2014. His disciplinary record shows a 40 hour suspension in April for an unauthorized highway pursuit in which he drove over the speed limit at up to 130 mph (209 kph) without using his lights and sirens.
You can share this story on social media: