15 years after 9/11: Emergency responders and civilians turning up with record rates of cancer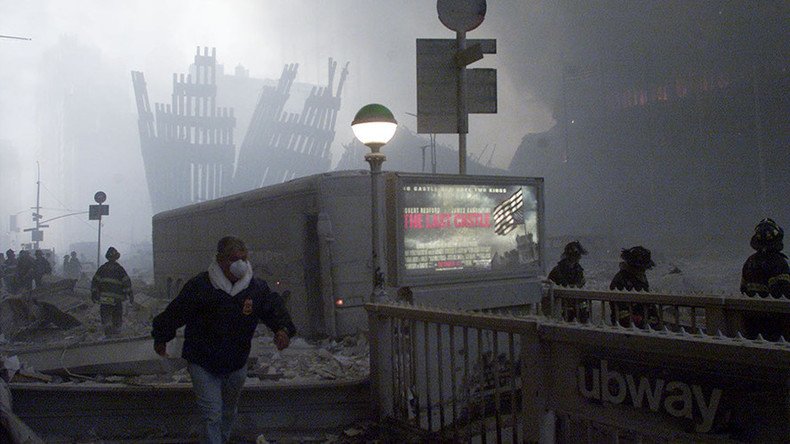 After 9/11 New Yorkers were assured the air was safe by the EPA. The federal government was slow to respond with health programs to help survivors despite recognizing the worst health effects wouldn't be seen for 10-15 years. But 15 years later cancer rates doubled.
One of the people at the forefront of efforts to get help for first responders was John Feal, a first responder who lost half his foot working at Ground Zero.

"We walked the halls of Congress for six years to get it (Zadroga Act) passed in 2010," John Feal, executive director of the FealGood Foundation told RT. "At the time everyone was jumping up and down that it was passed, but the first words out of my mouth were 'we've got more work to do.'"
"I don't celebrate when human life is at stake, when people are sick and dying. How do you celebrate?" added Feal. "Cancer wasn't even part of the bill when it we got it passed in 2010. We had to fight and advocate and petition the committee to get cancers added and that was a year later in 2011."
Feal said in the beginning they didn't have the science, they didn't have the data but he along with survivors walked the halls of Congress and told elected officials their personal stories.
"The people who deserve the credit are the people who came to Washington, DC with me not only in 2010 but in 2015. These people are sick and dying, in wheelchairs and with oxygen tanks and on 20 to 30 medications a day," Feal told RT.
An award-winning reporter, Eric Williams, was working downtown when the attack happened and worked in the area for years afterwards. He has since developed health problems - Chronic Obstructive Pulmonary Disease (COPD), joined the WTC Health
Program after he couldn't breathe, and is taking four medications. He remembers the head of the EPA Christine Todd Whitman's remarks shortly after 9/11 telling New Yorkers the "air quality is safe and acceptable."
"I thought it was disingenuous on the part of Christine Todd Whitman, who said publicly that it was perfectly safe for first responders and for people who worked in that zone to return to work as if it was normal," Williams told RT. "That gave a false impression to the dangers of returning to that section of town, and people are now feeling the consequences of that."
Williams remembers it was New York Congressman Jerrold Nadler (D), who has long advocated for support, who was prescient about the long-term effects of what was unleashed on 9/11.
"He was absolutely correct in saying elected officials and agencies like the WTC Health Program wouldn't see the ramifications of what happened that day until 10, 15 or 20 years after the fact," Williams told RT. "I can say that his predictions, certainly in my case, are absolutely on the money."
It has been 15 years since the 9/11 attacks on the World Trade Center when 2,726 people were killed. Among them 411 emergency workers, and another 7,000 people were injured after two commercial jets were hijacked and slammed into the towers. Both 110-story towers collapse releasing a huge cloud of dust and debris from the glass, concrete, steel and other materials that made up the buildings.
"We will never know the composition of that cloud, because the wind carried it away, but people were breathing and eating it," Mount Sinai's Dr. Michael Crane told Newsweek. "What we do know is that it had all kinds of god-awful things in it. Burning jet fuel. Plastics, metal, fiberglass, asbestos. It was thick, terrible stuff. A witch's brew."
Since then more than double the number of rescue and recovery workers have died, a total of 1,064, according to the latest figures from the Centers for Disease Control and Prevention (CDC), obtained by Newsweek. The figures come from the federal World Trade Center Health Program, created under the Zadroga 9/11 Health and Compensation Act that was eventually passed in 2010.
The act sunset after five years and after much protest involving a high publicized pitch from Comedy Central comedian John Stewart and tireless work on behalf of advocates and even the sick workers themselves, the Act was eventually renewed by Congress in 2015 and extended for 75 years.
Among the latest figures from the CDC, 5,441 people are now diagnosed with cancers believed to be associated with the 9/11 attacks, as of June 30. A figure that is double the number of cases reported in January 2014, when 1,822 people were reported with cancer.
"It's been steady for at least the last year and a half – we're seeing new people here being certified for cancer 10 to 15 times a week. That's every week," Dr. Michael Crane, medical director for the WTC Health Program at Mount Sinai Hospital, told the New York Post in August.
Nearly half those diagnosed with cancer are between the ages of 55 and 64, and most of those diagnosed were emergency responders, recovery or cleanup workers, and volunteers who worked during or after the attacks at the World Trade Center in New York.
Newsweek reported Doctors with the World Trade Center Health Program have "linked nearly 70 types of cancer to Ground Zero. Many people have fallen victims to cancers their doctors say are rare, aggressive and and particularly hard to treat."

"The diseases stemming from the World Trade Center attacks include almost all lung diseases, almost all cancers – such as issues of the upper airways, gastroesophageal acid reflux disease, post-traumatic stress, anxiety, panic and adjustment disorders," Dr. David Prezant, co-director of the Fire Department of the City of New York's World Trade Center Medical.
Govt slow to act
"Each cloud was so thick and large that it temporarily blocked out the sunlight over lower Manhattan," stated a Sierra Club report, "Pollution and Deception at Ground Zero: How the Bush Administration Reckless Disregard of 9/11 Toxic Hazards Poses Long-Term Threats for New York City and the Nation," published in 2004.
That didn't stop President Bush, Mayor Giuliani or the head of the Environment Protection Agency, Christine Todd Whitman from insisting that people get back to work and "the air quality is safe and acceptable."
It was the United States Geological Survey that identified hundreds of asbestos hot spots of debris dust that remained on buildings.
The Sierra Club report said the towers contained many hundreds of tons of asbestos (which was painted on the steel beams), "housed tens of thousands of personal computers containing lead and mercury, hundreds of mainframe computers and copy machines and many thousands of fluorescent lights containing mercury." There was the burning of nylon carpeting, plastic cables releasing dioxins, jet fuel and petroleum products stored in the towers, and more unusual toxins.
"The towers housed a Secret Service shooting range that kept millions of rounds of lead ammunition on site, and a US Customs lab that stored thousands of pounds of arsenic, lead, mercury and chromium," said the report. "The levels of human exposure to contaminated dust and vapors from this disaster were unprecedented."
By the end of the month the USGS reported that the toxicity of the debris was akin to that of drain cleaner. It would eventually be determined that a wide swath of lower Manhattan and Brooklyn had been heavily contaminated by highly caustic and toxic materials.
The city's health agencies, such as the Department of Environmental Protection, did not supervise or issue guidelines for the testing and cleanup of private buildings. Instead, the city left this responsibility to building owners.
Neither did they provide any health assistance.
Initially funding for health programs for survivors and their families came through the Walsh amendment attached to Hurricane Katrina emergency funding. Then President Bush and Congress wanted to rescind the $125 million in funding because New York State had been slow to employ the funds.
Then New York Senator Hillary Clinton along with Congressman James Walsh led the charge to keep the money in New York. First Congress agreed to $40 million for workers' compensation but after the fight the full amount was restored. Elected officials like Congresswoman Carolyn Maloney, and now New York Senators Kirsten Gillibrand and Chuck Schumer continued efforts to fight for health services.
Before the Zadroga Act, many 9/11 responders and survivors had to rely on their own health insurance, which did not always cover their conditions, and many had to pay extra medical expenses on their own.
"For years, they said we weren't sick and we were making it up," Feale told Healthline. "And then science finally caught up to us."
Under the Zadroga Act the WTC health program offers yearly medical monitoring to 9/11 responders, including thousands who worked or volunteered as part of the emergency, recovery and cleanup efforts in Lower Manhattan.
A total of 754,968 people have registered with the World Trade Center Health Program in order to get screened and treatment recommendations. More than 37,000 people have at least one medical condition related to the 9/11 attacks.
A new study published by the Journal of Alzheimer's and Dementia confirmed the correlation between Post-Traumatic Stress Disorder (PTSD) and cognitive impairment for the first responders to 9/11.
"I have a number of physical impairments but I am very lucky because I don't have cancer," Daniel Moynihan, a first responder told RT. "I lost my ability to smell, two different lung issues, three different neurological issues. I am now deaf on the right side. And not only physical issues but mental issues, PTSD."
The study found nearly one-fifth of first responders at the World Trade Center developed PTSD in response to the attack and the numbers continue to grow.
You can share this story on social media: