'Enemy kills': 3 former US Air force drone operators back Yemeni victims' lawsuit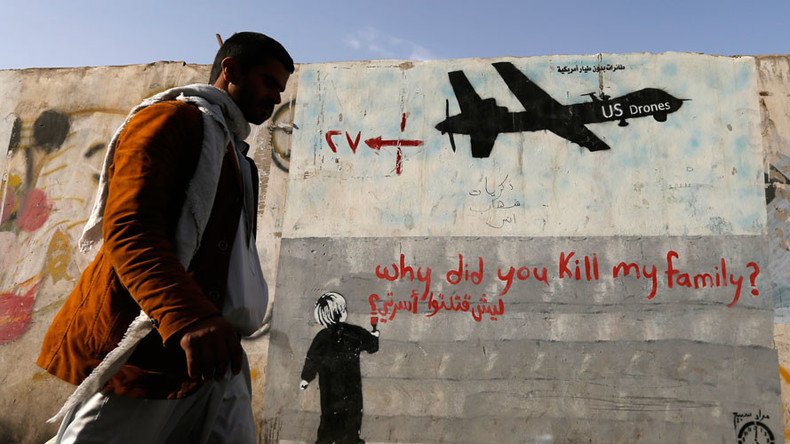 Three former military veterans who were once involved in the US drone program are supporting a Yemeni man's lawsuit demanding answers about why his family members were killed in a 2012 strike.
All three vets ‒ Brandon Bryant, Lisa Ling and Cian Westmoreland ‒ worked on the Obama administration's covert drone killing program and filed an amicus curiae, or "friend of the court" brief, in Jaber v Obama in the US District Court of Appeals in Washington, DC.
"Contrary to Executive Branch claims that the program operates with strict adherence to international legal principles and state sovereignty, amici witnessed a secret, global system without regard for borders, conducting widespread surveillance with the ability to conduct deadly targeting killing operations," stated the veterans' 17-page filing, urging the court to overturn a previous decision to throw out Jaber's case.
The amicus curiae, which was filed August 29, supports the lawsuit filed by Faisal bin ali Jaber, a Yemeni environmental engineer, who claims innocent family members were killed in a US drone strike in Yemen in 2012. The brief requests the court overturn its February decision and allow the lawsuit to proceed.
Jaber is seeking an official apology and declaration of error, not financial compensation, for his relatives' deaths. His brother-in-law, Salem, and his nephew, Waleed, died in the August 2012 strike in their village. Salem was an anti-al Qaeda imam who is survived by a widow and seven young children; Waleed was a 26-year-old police officer with a wife and infant child. Salem had given a sermon preaching against extremism just days before he and Waleed were killed.
Reprieve, an international humanitarian group, sued the US government for wrongful death on June 7, 2015, claiming the drone strike constituted an extrajudicial killing in violation of customary international law.
Leaked intelligence indicated US officials knew they had killed civilians shortly after the strike. In July 2014, the family was offered a plastic bag containing $100,000 in sequentially marked US dollar bills at a meeting with the Yemeni National Security Bureau, according to Reprieve's statement. The NSB official said the money had come from the US and he had been asked to pass it along.
In November 2013, Faisal traveled to Washington, DC, to discuss the strike with senators and White House officials. Many offered personal regrets, but the US government refused to publicly acknowledge or apologize for the attack.
The Reprieve lawsuit was dismissed in February 2016 on the grounds that ruling on the case "would require the court to second-guess the executive's policy determinations in matters that fall outside of judicial capabilities."
Jaber appealed the lower court ruling on August 22, and said in an interview he has not spent the $100,000 from the US government, nor does he want more money. He wants an apology.
The veterans said they witnessed a culture that "often encouraged and celebrated strikes."
Bryant said after his first strike "his squadron celebrated that he had 'popped his cherry' by engaging in his first drone killing," and Westmoreland's supervisor "excitedly" told the unit "we are killing bad guys now, boy." The brief said both men experienced "pressure to fly more missions and conduct more strikes and the drone program expanded."
Bryant served in the US Air Force as an MG1B Predator sensor operator, and was trained as an intelligence analyst. He had missions in Iraq, Afghanistan, Yemen, Pakistan and Somalia. Westmoreland served in the US Air Force's 73rd Expeditionary Air Control Squadron and carried out unmanned and manned missions in Afghanistan. Ling was an army medic and nurse before she joined the Air National Guard as a technician in its 48th Intelligence Squadron and supported operations during the first Gulf War and the so-called global "War on Terror."
The veterans said that, although they did not witness the killing of Jaber's relatives, they witnessed widespread and deliberate misclassification of deaths as "enemy kills."
Shadow campaigns are being carried out in many countries where the US has not declared war, including Yemen, Pakistan, Libya and Somalia, the Los Angeles Times reported. The drone program in those countries is run by the CIA and the US military's secretive Joint Special Operations Command.
Ling said she received a commendation for identifying 121,000 insurgent targets over a two-year period. Westmoreland was given a report that indicated he assisted in 200-plus "enemy kills," a number that overstates the number of actual enemies. Bryant's report stated he assisted in over 1,600 "enemy kills." In one incident a dozen people were killed five missile shots when only three were actual combatants (rather than civilians). A child killed in another strike was classified as a dog.
"From our collective experience working on the drone program or on drone systems, amici believe the public has been misinformed about the effectiveness of the drone strikes and the way they are conducted. There can be no 'electoral accountability' if the public is misinformed about the effectiveness and legality of Executive actions," said the veterans.
You can share this story on social media: