Clinton & Trump lies about US intervention overseas go unchallenged during NBC town hall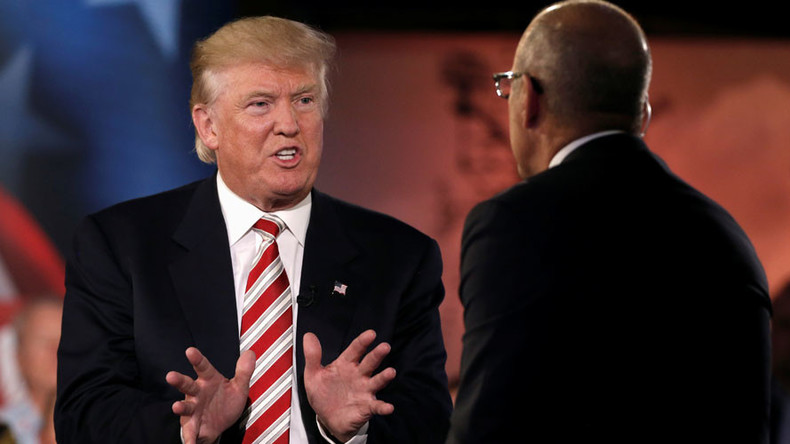 The "Commander-in-Chief" NBC forum, featuring presidential nominees Hillary Clinton and Donald Trump, was slammed on social media for the failure of moderator Matt Lauer to challenge their often contradictory and false claims on US foreign policy.
READ MORE Live Updates: Trump, Clinton battle for military voters in 1st town hall together
Active military personnel and veterans attended Wednesday night's televised town hall as the candidates, who spoke separately, gave the world a real taste of what to expect if either has their 'finger on the button.'
Trump fired shots at Clinton over her vote in the Senate for the invasion of Iraq and her decision to interfere in Libya, which he described as "a terrible mistake."
Many criticized the morning host Lauer for not challenging Trump's lie that he was against the war in Iraq from the start.
He even attempted to cut Clinton off when she tried to raise the billionaire's record during her segment.
While Trump has repeatedly used his opposition to the war as a selling point, there is no record of this anti-war stance.
Instead, when asked if he supported the invasion of Iraq during a September 2002 interview on the Howard Stern radio show, he responded, "Yeah, I guess so."
"I wish the first time it was done correctly," he added.
Clinton's answers were often crafted to show up Trump's unsuitability to be commander in chief.
She said the most important factor was "temperament and judgment," but then went on to highlight how Trump held the same positions as her on Iraq and Libya when she was asked about her "hawkish foreign policy."
"I view force as a last resort, not a first choice," she claimed.
On Libya, Clinton's defense was that there was "no difference between my opponent and myself."
She went on to describe US intervention in Libya as "the right decision," adding "permitting there to be an ongoing civil war in Libya would have been as dangerous and threatening as we are seeing in Syria."
Since the 2011 military intervention, Libya has experienced ongoing civil war as rival groups fight for control over what has been described as a 'failed state,' with sections of the country under control of Islamic State (IS, formerly ISIS/ISIL) and 400,000 displaced in 2015.
"We were able to save lives, we did not lose a single American in that action," Clinton said, ignoring the civilians who died from NATO bombings and the evidence of torture and atrocities by the "rebels" backed by the US, France and the UK, as noted in reports by human rights organizations.
When Lauer asked the audience to raise their hands if they had served in Iraq, about half of them did.
"How do you think these people feel when the person running to be their commander in chief says her vote to go to war in Iraq was a mistake?" he then asked Clinton, but not Trump.
"Look, I think that the decision to go to war in Iraq was a mistake," Clinton responded.
"I also believe that it is imperative that we learn from the mistakes, like 'after action reports' are supposed to do," Clinton said. "So we must learn what led us down that path, so that it never happens again. I think I'm in the best possible position to be able to understand that and prevent it."
When asked about whether Clinton was concerned about Iran "cheating" on the nuclear deal, she said she was more concerned about other aspects of Iranian policy like "ballistic missiles, support for terrorists, being involved in Syria, Yemen or other places, supporting Hezbollah, Hamas."
Neither Clinton or Lauer pointed out that strong US ally, Saudi Arabia, also has ballistic missiles, supportsterrorism, and is bombing both Syria and Yemen.
Lauer also got some pushback for spending too much time asking Clinton about her email scandal and for lobbing softball questions to Trump.
Trump is taking heat for his comments on Wednesday about his 2013 tweet which implied rape was to be expected when men and women serve together.
He called for a "court system within the military," apparently unaware that such a system already exists.
On Iraq and Libya, Trump focused on the quality of their "so valuable, so good" oil, claiming major oil producer Iran "is going to get whatever ISIS doesn't already have" in Libya.
When asked what's next after defeating Islamic State, Trump criticized previous administrations about Iraq and said they should "take the oil."
Both candidates have ties to the oil industry.
One of Trump's advisers is fellow billionaire Harold Hamm, who backs fracking and denies the existence of climate change.
While Clinton has raised more than Trump from the oil industry, the Republican brought in $159,000 directly from employees in that sector through the end of July, the Wall Street Journal (WSJ) reports.
WSJ adds that Trump raked in another $470,000 through a Republican National Committee oil sector fund for his campaign.
Clinton's Democratic National Committee fund has received $650,000 and her campaign got another half a million in direct donations.
The Clinton Foundation received millions of dollars from big oil companies over the years, most controversially in 2009, at a time when she was approving pipelines and other projects as Secretary of State.
While Green Party candidate Jill Stein and Libertarian Gary Johnson weren't invited to the town hall debate, they would have represented much different views on US interventions overseas.
Stein's anti-war platform calls for an end to American imperialism, including the closure of all US military bases overseas and abolishing all nuclear weapons.
Johnson's isolationist foreign policy is in line with most Libertarians, although he admitted during a Thursday morning interview on the MSNBC show "Morning Joe" that he doesn't know what (or where) Aleppo is.
He later released the following statement.
The Libertarian party platform supports a sufficient military to defend against aggression, but calls for an end to "its attempts to act as a policeman for the world."
You can share this story on social media: