US has 'false economy' & artificial stock market – Trump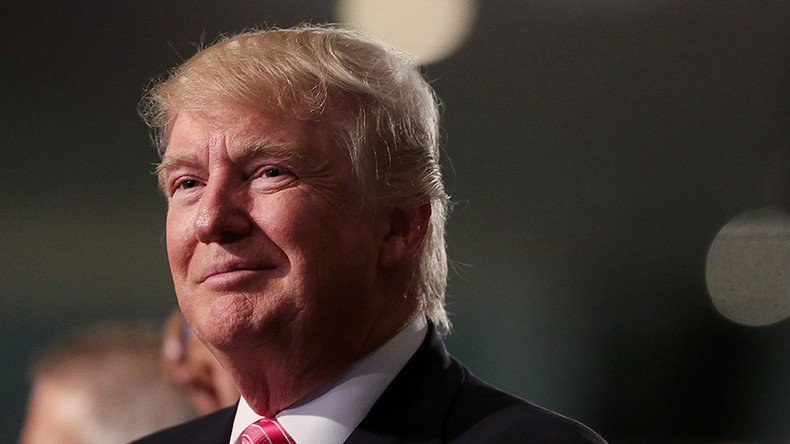 Republican presidential nominee Donald Trump has described the US economy as "false," saying that the central banking system is intentionally keeping interest rates low to prevent a new economic collapse.
"We have a very false economy," Reuters reported Trump as saying in answering to a journalist's question while campaigning in Ohio on Monday.
"They're keeping the rates down so that everything else doesn't go down," Trump added in response to the question, which was about a possible rise in interest rates by the Federal Reserve this month.
"At some point the rates are going to have to change," Trump said. "The only thing that is strong is the artificial stock market."
The ideas on rebuilding the US economy offered by the billionaire in an interview to Fortune magazine in April have been dubbed as questionable by some, while others argue that his approach may work out just fine.

"We have to rebuild the infrastructure of our country. We have to rebuild our military, which is being decimated by bad decisions. We have to do a lot of things. We have to reduce our debt, and the best thing we have going now is that interest rates are so low that lots of good things can be done – that aren't being done, amazingly," Trump said back in April.
Meanwhile, Democratic presidential frontrunner Hillary Clinton has not been so radical in her future plans concerning the US economy. However, she promised to support a shakeup in the top ranks of the Federal Reserve in an effort to increase diversity and minority representation within the Fed, Clinton's campaign said in a statement back in May.
"The Federal Reserve is a vital institution for our economy and the wellbeing of our middle class, and the American people should have no doubt that the Fed is serving the public interest," the statement said.

"That's why Secretary Clinton believes that the Fed needs to be more representative of America as a whole and that common sense reforms – like getting bankers off the boards of regional Federal Reserve banks – are long overdue."

The Fed is currently headed by a board of governors based in Washington along with a dozen regional bank presidents spread across the US. The board is nominated by the White House and then approved by the Senate. Regional bank presidents, on the other hand, are chosen by their boards of directors, which are chosen by the banking industry and by Washington Fed governors.
You can share this story on social media: