Atlantic City shootout: Suspect dead, cop critical, after casino gun fight near famous boardwalk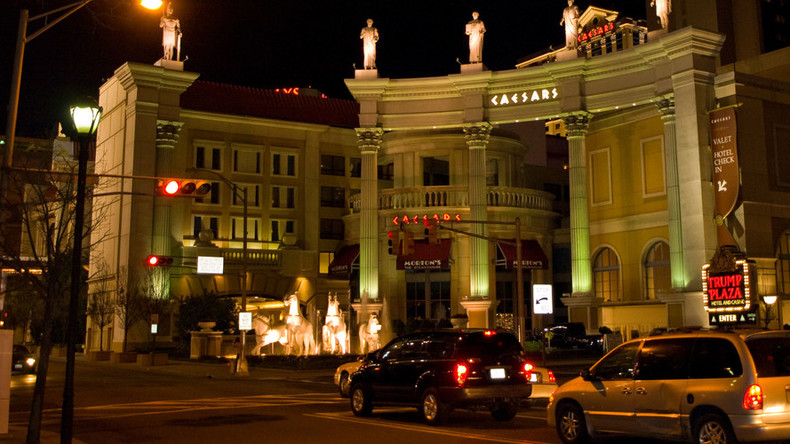 An Atlantic City police officer is in a critical condition and one of three suspects is dead after a shootout at Caesars Casino in the US state of New Jersey.
Police are still looking for the two other gunmen who fled the scene.
We are currently investigating a shooting. We have 1 officer shot and wounded. 1 suspect shot and killed. This is an active invest.

— Atlantic City Police (@AtlanticCityPD) September 3, 2016
Atlantic City Police Chief Henry White told WCAU that the shootout happened after officers stopped a vehicle with three men inside near the casino's parking garage in the early hours of Saturday morning.
At least one of the men shot at the officers before they returned fire, according to White.
One suspect was shot dead and the officer ended up in surgery with a gunshot wound to the head.
Roads surrounding the casino have been closed and K9 dogs dispatched for the investigation.
#Breaking -Pacific Ave closed between Missouri and Ohio Ave as police and K9s look for gunman in Atlantic City. Police officer critical.

— nydiahan6abc (@nydia_han) September 3, 2016
Police have not yet established a motive for the shooting at the ancient Roman-themed casino next to the city's famous boardwalk.
New Jersey State Police Benevolent Association have offered a $20,000 reward for information leading to the arrest and conviction of the two suspects who fled the scene.
It is not yet known if the police officers will be investigated for excessive force or murdering the dead suspect. Atlantic City PD released a video of the suspects.