Significant 5.6 quake hits Oklahoma, strongest in years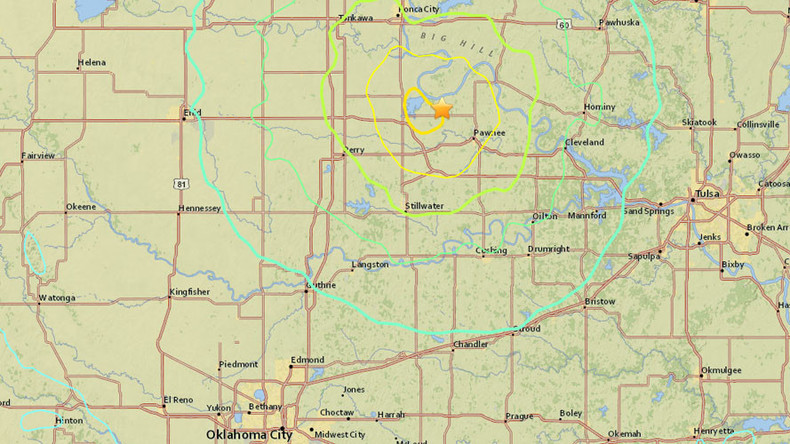 The US state of Oklahoma has been hit by a 5.6-magnitude earthquake, while no injuries have been reported. The quake, which took place on Saturday morning, matches the strongest tremor to have hit the area, which occurred in 2011.
According to the United States Geological Survey (USGS), the epicenter of the quake was in the north of the state, 14km (8.7 miles) northwest of the town of Pawnee, which has a population of over 2,000 people. It was recorded at a shallow depth of 4.1 miles (6.6 km).
"We have had a spate of quakes over the last several years, but nothing like this," Pawnee Mayor Brad Sewell told Reuters. "It was a long, sustained quake. ... Clearly it was felt far and wide," he added.
There have been no immediate reports of casualties or damage in the Midwest state.
Saturday's tremors were the strongest in years in the area, where the landscape is largely flat as it is part of the Great Plains.
Although no people have been reported injured, the wall of a historic building collapsed in downtown Pawnee, according to the local authorities, which were cited by local media.
Reports of the tremors were received from neighboring Texas, as well as from Nebraska and Iowa.
The earthquake is now tied with the 2011 Oklahoma 5.6 magnitude quake, which was the most powerful ever recorded in the state, according to the USGS.
The 2011 quake was not too severe with a couple of people suffering minor injuries, while several house were damaged. However, threats of earthquakes have risen over the last few years due to concerns about hydraulic fracking taking place in the region.
The USGS confirmed a link between fracking and seismic activity in the state. The organization released a report earlier in the year stating that the 2011 quake was caused by human activity.
Having published the USGS National Seismic Hazard Map, researchers said injecting wastewater under high pressure underground had triggered the earthquake.
You can share this story on social media: