California lawmakers move to ban companies from boycotting Israel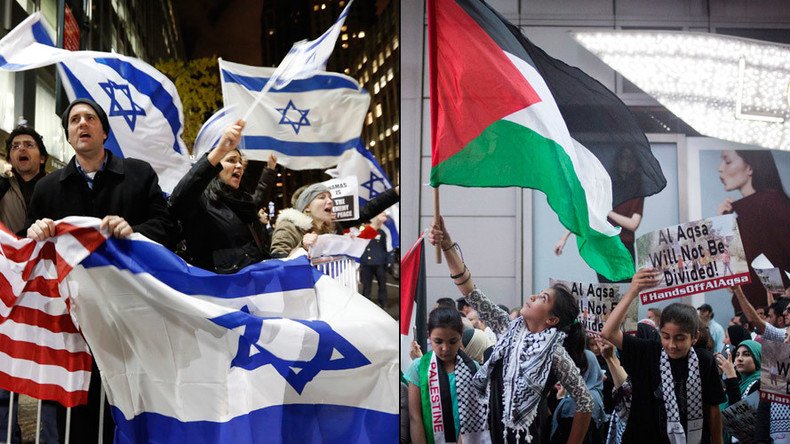 A bill heading to California Governor Jerry Brown's desk could prevent companies that boycott Israel from contracting with the state government. Activists for Palestine and others call the legislation a violation of freedom of speech.
Companies that participate in a boycott of Israel could be excluded from receiving contracts worth $100,000 from the California state government if AB 2844 becomes law. The California State Assembly passed the bill on Tuesday in a 69-1 vote, with 10 abstaining.
While AB 2844 claims that "it is the intent of the Legislature to ensure that taxpayer funds are not used to do business with or support discriminatory actions against any individuals," and would also include banning companies with "any policy that they have against any sovereign nation or peoples recognized by the government of the United States" from receiving these contracts, the only country listed in the version of the bill that passed is Israel.
Investigative journalist Max Blumenthal explained to RT that the bill requires companies seeking these lucrative contracts "to certify under penalty of perjury that they are not boycotting Israel."
The bill's authors view it as a fight against discrimination.
"The bottom line is that the state should not subsidize discrimination in any form," said the bill's author, Assemblyman Richard Bloom (D-Santa Monica) on the Assembly floor.
However, the American Civil Liberties Union doesn't share Bloom's optimism about the bill. In a letter sent to Bloom in April, Kevin G. Baker, ACLU's legislative director, wrote, "AB 2844 in essence proposes an official state blacklist of persons and corporations that engage in lawful politically-motivated speech and association."
Baker also noted that the bill could potentially be more detrimental to government projects than helpful. He wrote, "the bill does not evaluate or give preference to contractors that are fiscally sound; in fact, it specifically disqualifies businesses that may be the most economically responsible bidder simply because the company participates in a boycott of Israel."
Opponents also believe that it unfairly targets the Boycott, Divestments and Sanctions (BDS) movement to boycott Israel until the country ends its occupation of "all Arab lands" and recognizes an independent Palestine.
Baker also noted that the ACLU "would be opposed to a pro-BDS bill in the same way."
David Mandel, a Sacramento attorney, member of Jewish Voices for Peace as well as the Palestine Subcommittee of the National Lawyers Guild, told the Jewish Journal that "if you take the plain language of the bill it will really have no impact at all."
Instead, Mandel believes that the bill is more about a show of force, saying the point is to "try to make a political point, to intimidate people, to send a message."
Blumenthal explained, "It's been simply rewritten to restate California civil rights law, but to apply to Israel."
But supporters of the bill are not troubled with concerns over free speech.
"It is a consistent theme of BDS supporters to suggest that any time anything is directed towards them in the form of criticism, that somehow their free speech rights are being chilled," Dean Schramm, Los Angeles chairman of the American Jewish Committee, told the Jewish Journal.
Schramm claimed that "Oftentimes, if not all the time, when there's an entity boycotting the State of Israel, at the core, it's anti-Semitism."
However, the bill could have potential ramifications for the US beyond punishing companies who support the BDS movement.
"If you look at what's happening in France," Blumenthal said, "where individual citizens who campaigned for the boycott movement are being brought to trial and how that was used as a pilot program along with banning protests against Israeli attacks on the Gaza Strip for the emergency regulations which have now barred protests for labor rights."
"This is a part of a broader attack that has to be stopped before it expands outward to the movement to divest from carbon polluting companies that's being pushed by the environmental movement," he continued.
Blumenthal also has an issue with one particular message the bill sends. Section 1 of the bill explains its purpose as "[including] but is not limited to, discriminatory actions taken against individuals of the Jewish faith under the pretext of a constitutionally protected boycott or protest of the State of Israel."
"They're conflating Jews with Israel. Who else conflates Jews with Israel? Anti-Semites do. It reinforces the same dangerous conflation that blames Jews for the human rights violations of Israel," Blumenthal explained.
Gov. Brown has until the end of September to sign or veto the bill.
"It's pretty clear at this point that the bill will be passed by Jerry Brown who has shown he's capable of signing repressive legislation when it helps his political ambitions," Blumenthal told RT.
You can share this story on social media: