Leaked: UK-made military spy gear on offer to US police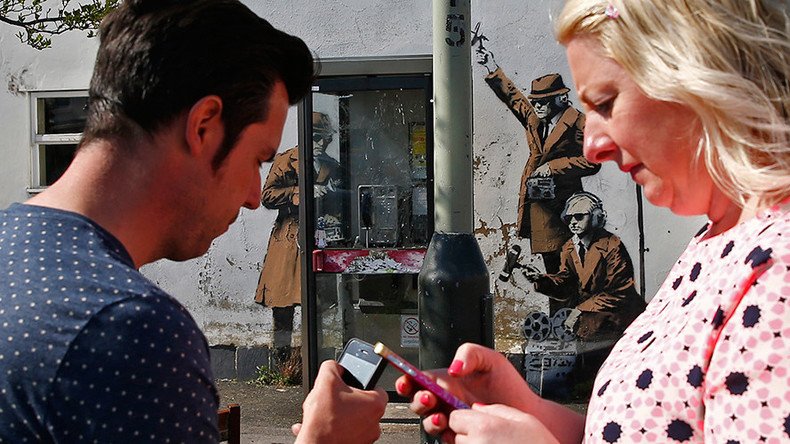 British-made military-grade spy equipment that allows phone calls and texts to be intercepted and can even track a mobile phone user's location within 1 meter of accuracy has allegedly been offered to US police departments, according to a leaked catalogue.
The confidential 120-page document listing sophisticated surveillance gear designed by British defense company Cobham has reportedly been distributed among US police departments, according to the Intercept – which obtained the catalogue as part of a larger collection of files coming from within the Florida Department of Law Enforcement.
The comprehensive catalogue was described by Cobham as "proprietary and confidential" and included a condition that it "must be returned upon request."
It advertises phone surveillance devices, the so-called "catchers" used to create fake mobile phone networks and track users' fingerprints, calls, and texts.
Such equipment may also be used for "intelligent jamming, including creating controlled areas of coverage."
Specifications such as these enable the interception of up to four calls at a time, the Intercept said, adding that the equipment's operational distance would be around 1 to 2km for 3G networks and much greater for 2G.
It implies that anyone using a mobile phone inside the Cobham device's radius could be subject to invisible surveillance, with their voice calls and SMS messages being wiretapped.
Another device, the portable 'GSM-XPZ HP Plus', can "take control of target phones" and "create [an] exclusion zone to deny GSM network coverage," the catalogue states.
Tools for covert spy operations form a large part of the catalogue, remarkably listing audio and video surveillance equipment with sensors hidden in pocket knives, trash cans, bird houses or lighters.
"By design, these devices are indiscriminate and operate across a wide area where many people may be present," Richard Tynan, a technologist at Privacy International, told the Intercept.
These "indiscriminate surveillance systems that are not targeted in any way based on prior suspicion" are "the essence of mass surveillance," he added.
The US police are presumably among Cobham's clients, company spokesperson Greg Caires told the Intercept. He chose not to comment on the catalogue or confirm its authenticity, but said it "looked authentic" to him.
Molly Best, spokesperson for the Florida Department of Law Enforcement, admitted the Cobham equipment has been procured but did not elaborate on the details.
In 2015, the Defense News listed Cobham as the 51st largest defense firm in the world, and the fifth-largest in the UK, based on 2013 revenue.
The same year, American security expert Bruce Schneier wrote on his website that Cobham sells a system enabling 'blind calls' to be sent to mobile phones. The calls do not ring and are undetectable by the recipient, allowing the sender to track the phone's location to within 1 meter.
You can share this story on social media: