'This is not my child': JetBlue mixes up unaccompanied minors by sending them to wrong cities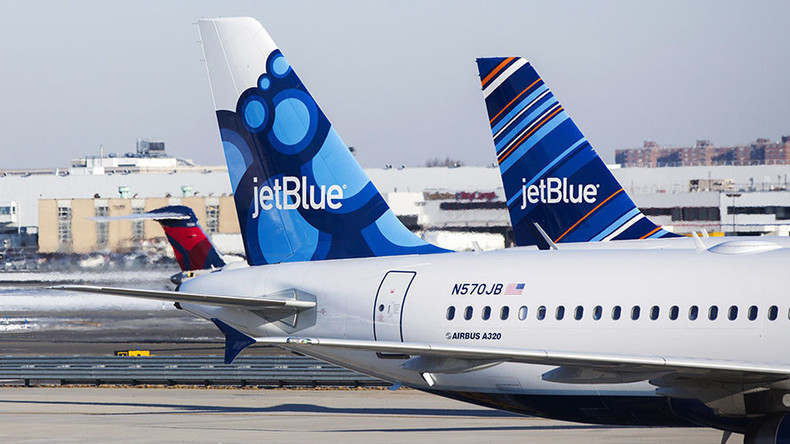 For kids, flying alone on a plane can be scarier than being left home alone.
So imagine the fright of two little boys and their respective parents when the airline that was supposed to be looking after them put them on the wrong flights.
When Maribel Martinez traveled to JFK Airport in New York on August 17, she expected to be greeted by her five-year-old son Andy, who was returning from a family visit in the Dominican Republic.
But what should have been a heartwarming reunion turned into a nightmare for the woman, when she was presented with a five-year-old boy she had never met.
The mix-up was the fault of JetBlue, which confused Martinez's son with another boy of the same age.
Instead of sending Andy to New York, the airline sent him to Boston – 214 miles (344km) away from his home.
"No, this is not my child," the shocked mom told JetBlue employees upon being introduced to the other five-year-old, who happened to be carrying her son's passport.
JetBlue then frantically began investigating what had happened, and where Andy had ended up. When he was finally tracked down in Boston, he was put on the phone with his terrified mother.
During that call, Martinez recalled Andy saying "they put me on another plane."
The boy was placed on the next flight to JFK, which departed the same day.
It is unclear when the child who turned up in New York was sent to Boston to be reunited with his family.
who would have guessed that filling out an unaccompanied minor form for flying would take 6286188291 hours

— ash (@ashlynxmichelle) August 28, 2016
The airline acknowledged the incident in a statement, saying: "Two unaccompanied children of the same age traveling separately from Santiago, Dominican Republic - one to New York JFK and one to Boston — each boarded a flight to the incorrect destination. Upon learning of the error, our teams in JFK and Boston immediately took steps to assist the children in reaching their correct destinations. While the children were always under the care and supervision of JetBlue crew members, we realize this situation was distressing for their families."
JetBlue refunded Martinez the $475 she paid for the flight, and gave the family an additional $2,100 in credit for future flights. But the mother, who says she will never fly JetBlue again, says the gesture isn't enough.
"I thought he was kidnapped," Martinez said, adding that she didn't know if he was still alive. "I thought I would never see him again."
Traveling next to an unaccompanied minor. As plane takes off she waves goodbye to ground below for a full 30seconds and it is breaking my <3

— Mar Hicks (@histoftech) August 21, 2016
She has engaged a lawyer to take legal action against the airline for its negligence and the emotional distress it caused.
"Any parent can understand the terrifying fear a mother goes through knowing that her child is missing," attorney Sanford Rubenstein said. "This never should have happened and the JetBlue employees should be ashamed of themselves."
JetBlue says the incident is being reviewed "with our leadership and Santiago airport team" to prevent it from happening again.
Fortunately for little Andy, there weren't any bad guys on the plane, although we're sure he would've dispatched them with the same cleverness as Kevin McCallister.