Philadelphia police officer pictured with Nazi tattoo, but are the facts in?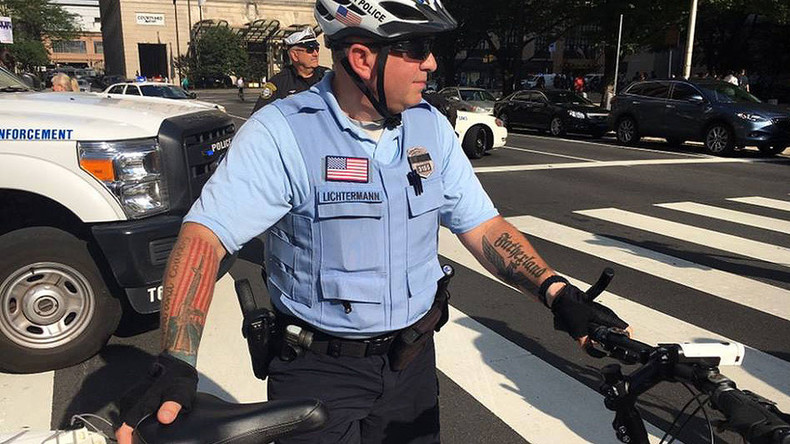 The threat bicycle police officers seem to pose falls somewhere between officers on horseback and those on a Segway. However, one officer's insidious neo-Nazi arm tattoo has raised a lot of questions about his past and present.
A picture shared on Wednesday of an officer, believed to be Ian Hans Lichterman, shows his forearms are heavily adorned with Nazi iconography. On one arm, he sports a Nazi War Eagle tattoo known as the 'parteiadler' with the word 'Fatherland' above it.
In the photo, the officer's uniform has the name 'Lichtermann', spelled with an extra 'n' at the end.
The Anti-Defamation League notes that the Blue Eagle logo of the Roosevelt's New Deal program is often mistaken for a Nazi Eagle. However, the similarity between the tattoo in question and Nazi iconography is striking. In addition, recent looks into Lichterman's past show that it wouldn't be out of the question for a man with his interests to have a white supremacist tattoo.
In 2010, there were several successful hacks into neo-Nazi and white supremacist websites that leaked the real names and information of members. One of the sites hacked belonged to Blood and Honour, a group founded in the UK by skinhead musicians that turned into an international organization, with members in the US.
When Blood and Honour was hacked, the names, addresses and email addresses of its members were revealed, including one Philadelphia man named Ian Lichterman.
At that time, Lichterman allegedly left the force and went into private security, which the anti-fascist organization Antifa alleges was overseas mercenary work, due to Lichterman's alleged background as a marine. The Philadelphia network, Philly Antifa, got wind of the story and discovered that a man named Ian Lichterman had been honored at the 2nd Police District Advisory Council in 2014.
Although there is no confirmation about Lichterman's status as a marine or veteran, a man named Ian Hans Lichterman ran in a race for wounded soldiers in 2014 in a township just outside of Philadelphia.
While it could be pure coincidence that a man named Ian Hans Lichterman lived in the same city as a man named Ian Lichterman, where an officer who spells his last name as Lichtermann also lives, the odds are not in the officer's favor.
But there are issues that need to be addressed while the social media fervor boils over. The leak occurred in 2010. According to Philly Antifa, "Shortly after the hack, Lichterman left the Philly PD and was working as a private security contractor (mercenary) in the middle east for some time."
However, the Philadelphia Inquirer found city payroll records that show an officer named Lichterman was employed from April 2000, but left in August 2002, and then returned in 2003. This does not seem to fit the timeline from Philly Antifa.
In addition, the change of spelling from Lichterman to Lichtermann, as seen on his uniform, cannot be explained at this time. A cursory search through Philadelphia County records as well as Delaware County records did not find any name change filings for Lichterman or Lichtermann.
However, the email address listed for Ian Lichterman in the Blood and Honour was philly3155@yahoo.com. A closer look at the picture of Lichtermann that has been circulating shows his badge number to be 3155.
It could just so happen that another police officer whose name is spelled 'Litchermann' is passionate enough about Nazi iconography that he had them tattooed on his arm.
Few sources have acknowledged this discrepancy in his name, nor the years when he was not employed as a police officer. Reporters who have tried to contact Lichterman have been hung up on or found his number to be disconnected.
In addition, the Daily Dot connected Lichterman to Instagram and Flickr accounts where his handle was 'Panzerhund0311', panzer being German for 'tank'. In addition, the 0311 is Marine infantry code for rifleman.
He has since deleted all of his social media accounts, but the Daily Dot found he collected German police regalia.
Since the picture went viral on Wednesday, the Philadelphia Police Department has issued a statement explaining that although they have no dress code policies regarding tattoos, "the department will quickly move to assess and determine the appropriate policy moving forward."
They also said that the issue has been passed to internal affairs.
Philadelphia Mayor Jim Kenney released a statement saying, "The imagery on display in the tweet is disturbing," adding, "In this environment - in which open, honest dialogue between citizens and police is paramount - we need to be building trust, not offering messages or displaying images that destroy trust."
John McNesby, president of Fraternal Order of Police Lodge 5, doesn't see the big deal about this.
"I've seen it. It's an Eagle. Not a big deal," he told the Philadelphia Inquirer.
Prior to Kenney's statement, McNesby told the Inquirer via text message, "City not concerned neither are we," and went on to say, "I see people with panthers on their arm. Doesn't mean they are black panthers. People with crosses on arms doesn't mean they dislike any other religion."