LAX passengers panic after 'loud noises' prompt rumors of active shooter, mass evacuation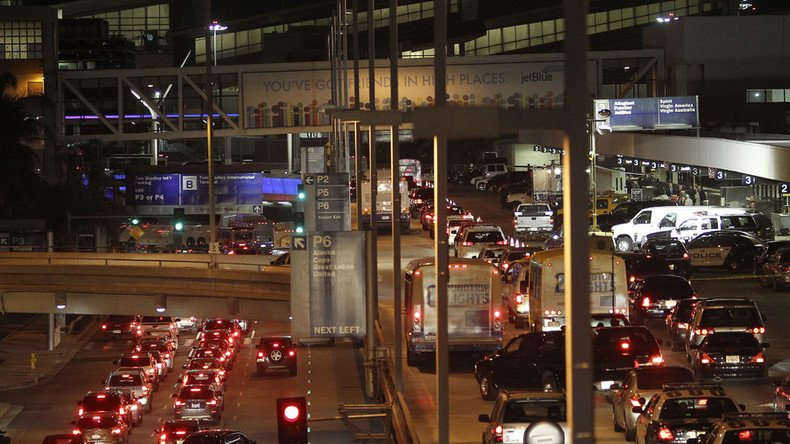 Passengers at Los Angeles International Airport (LAX) frantically fled their terminals following reports of an active shooter on Sunday night. However, the LAPD has since confirmed that "loud noises" were responsible for the panic.
Multiple calls coming from multiple terminals suggested there were sounds of shooting at LAX, and police were quickly dispatched to the scene.
The Los Angeles Police Department (LAPD) said people were possibly barricaded in bathrooms inside terminal 6, Culvercity311 reported on Twitter.
A report from LA County Scanner's Twitter account said the shooting was taking place at Terminal 8.
Another report said that people were barricading themselves inside a cafe at Terminal 8.
The LA Airport Police Department tweeted: "Police searching LAX after reports [of shooting]. All precautions being taken to ensure safety of public. Remain calm. Thank you for your cooperation."
The Federal Aviation Administration (FAA) issued a ground stop at the airport until 10pm local time, and authorities closed the airport to incoming traffic.
But the commanding officer of LAPD media relations, Andy Neiman, eventually tweeted that "loud noises" were the cause of the report – not a shooting.
"No shots fired, no injuries. Investigation continues to locate source," he wrote.
The Los Angeles Fire Department also said that "no significant incident" was noted, KTLA reported.
A news reporter for a local CBS affiliate tweeted that all is clear at the airport, but that everyone must be screened again by TSA.
Before the shooting reports, LAPD officers arrested a man at the airport dressed as Zorro. It was not immediately clear if the arrest was connected to the incident. Video footage posted on Twitter shows the man, apparently carrying a plastic sword, lying on the ground surrounded by six officers.
It comes just two weeks after reports of a shooting at JFK Airport in New York prompted similar chaos after witnesses said they heard gunshots. An unnamed police source later told NBC that the noises were likely from enthusiastic fans watching the Rio Olympics. A local radio station said the noises were probably from fire crackers or a car with a noisy engine.
You can share this story on social media: