10 injured after Orlando mall shoppers confuse popping balloons with gunshots (VIDEO, PHOTOS)
Published time: 26 Aug, 2016 15:11
Edited time: 27 Aug, 2016 14:35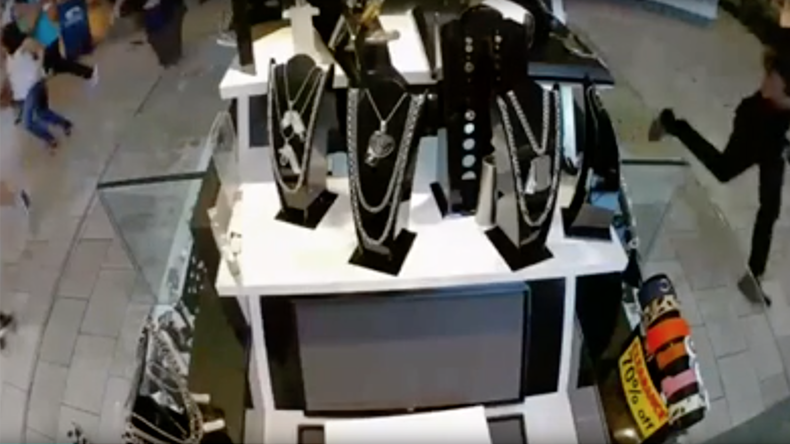 Ten people were injured at a mall in Orlando, Florida, after shoppers mistook the sound of popping balloons for gunshots.
Unsuspecting shoppers were startled to hear the sound of six large balloons being popped at Florida Mall on Thursday, fearing a gunman had opened fire.
However, the burst balloons were actually part of an industry standard test required for the inspection of a new hot dog kiosk called Fat Ones. The food stand is owned by former *NSYNC singer Joey Fatone.
"The test consisted of six large balloons popping consecutively, followed by a fire alarm," Deputy Rose Silva, a spokeswoman for the Orange County Sheriff's Office, said in a statement. "This caused people to go into panic mode and run."
Silva said an announcement was made on the PA system informing patrons and employees that the test was about to be conducted. However, the loud noises still left people scrambling for safety.
"All I heard was the word 'gun' and knew I had to get out of there," Natalie Tapia, 20, told the Orlando Sentinel. "My husband grabbed our baby out of the stroller and we just ran."
Ten people were injured in the panicked frenzy, the Orlando Sentinel reported, citing latest data from the fire rescue office. Four of them were taken to hospital.
Orlando County Fire Rescue spokeswoman Ngoc Huynh said most of the injuries were "falls, scrapes and twisted knees."
Social media was quickly filled with reports from mall patrons, with many saying there had been a shooting.
It comes six months after two people were killed at the same mall, during a shooting in the JC Penney parking lot.
The Thursday incident was the second false alarm to take place in Orlando in recent months. A similar scare took place in June at Orlando Premium Outlets, after a chair fell and panicked shoppers who thought the sound was gunshots.
It comes just two months after a gunman opened fire at Pulse nightclub in Orlando, killing 49 people and injuring 53 others.