'C*cks not Glocks': Texas students carry sex toys to protest campus gun carry law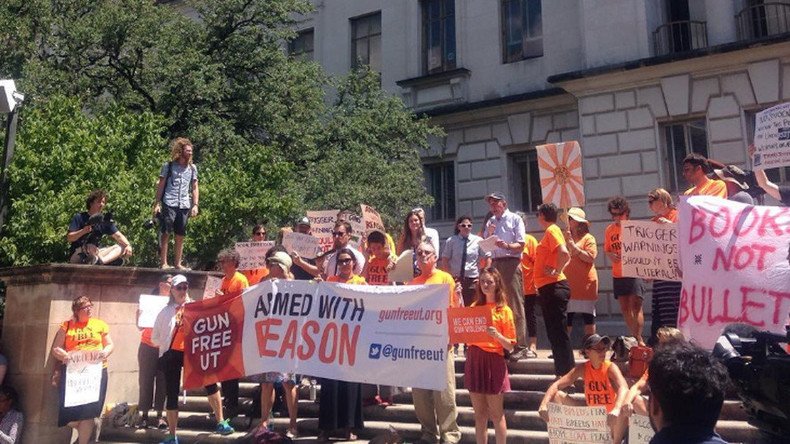 Hundreds of University of Texas students began their first day of class carrying sex toys to protest the controversial campus concealed handgun carry law. Organizers said they hope students will continue to carry the dildos until the law is repealed.
At a midday rally, hundreds of students enthusiastically strapped the dildos to their backpacks or handed them out on campus to protest the campus law which went into effect on August 1.
The state law allows those licensed to carry a concealed handgun to bring their weapons on public university campuses. There was furious debate about the measure among students and teachers and among political leaders especially over the growing number of mass shooting, a number of which have taken place on college campuses.
Event organizers for the 'C*cks not Glocks' campaign said they hope students will continue to carry the dildos until the law is repealed.
"It seems that I have cracked an enormous dick joke on the internet," Jessica Jin told the San Antonio Express-News, speaking of the protest she launched all the way back in October 2015 that is now being heralded as possibly the largest anti-gun protest in Texas history.
In an earlier interview with the Statesman, event organizer Ana López said she and other organizers have managed to gather more than 4,000 dildos for the event, all donated from sex-toy suppliers.
"We're fighting absurdity with absurdity," she said.
University of Texas does prohibit displays or performances considered obscene and state law bars displays of obscene items.
Bob Harkins, UT's associate vice president for campus safety and security, told the Statesman in a recent interview that displaying a sex toy would not make students liable to arrest.
"That's not illegal," Harkins said. "We're not going to arrest anybody for that."
Others are fighting back through the courts. A federal judge denied a request from three UT professors on Monday for a preliminary injunction to allow them to ban firearms in their classrooms. Professors argued handguns in the classroom would have a chilling effect on discussions and stymie academic freedom.
You can share this story on social media: