'Trump is a child rapist': Candidate linked to 'Lolita Express' billionaire by local GOP chair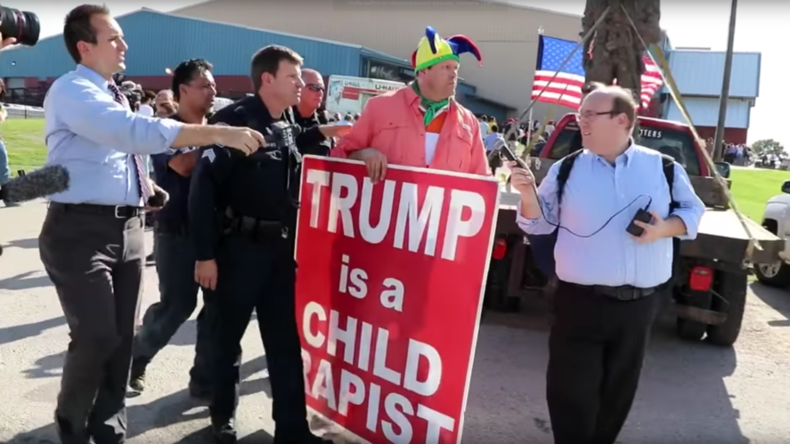 A Republican official's protest at a Donald Trump event in Austin, Texas Tuesday stirred up allegations that the presidential candidate raped a 13-year-old model he met while partying with billionaire sex offender Jeffrey Epstein.
Wearing a jester's hat and holding up a sign which read "Trump is a child rapist," Travis County GOP chairman Rob Morrow stood outside the theater where Trump was filming a town hall with Sean Hannity of Fox News.
The #NeverTrump Republican and supporter of Libertarian candidate Gary Johnson released a press release explaining the details behind the provocative sign.
"Donald Trump's psychopathy has been on full display on the national political stage for over a year," he said. "I want folks to know that Trump is a child rapist and that he is currently being sued in a civil action in NY federal courts for raping, slapping an 13-year-old girl at a Jeffrey Epstein party in 1994. Trump also threatened to murder the girl, now age 35 and a Jane Doe plaintiff, and also murder her family if she ever told how he [Trump] sexually abused her."
While not part of the mainstream media conversation, Trump has been dogged from the fringes of his own party and beyond by rumors that he sexually abused minors, which he denies.
A lawsuit was filed against the businessman accusing him of repeatedly raping the 13-year-old girl in 1994.
According to the suit, the assaults took place at parties hosted at the Upper East Side apartment of convicted sex offender Jeffrey Epstein, owner of the infamous 'Lolita Express' private plane.
The victim says she was lured to the parties with promises of a modeling career, where she was then assaulted in a "savage" manner.
Trump allegedly tied her to the bed and slapped her across the face as she begged him to stop.
"Immediately following this rape, Defendant Trump threatened me that, were I ever to reveal any of the details of Defendant Trump's sexual and physical abuse of me, my family and I would be physically harmed if not killed," she stated in an affidavit.
The plaintiff previously filed a case against Trump in Los Angeles, which was dismissed.
Trump was also accused of assaulting his ex-wife Ivana, who later backtracked on the statement she gave under oath, where she described the presidential hopeful violently attacking her, pulling out her hair, and raping her while they were married.
In 1997, a woman accused Trump of touching her intimately and attempting to rape her on numerous occasions. She withdrew her case after he husband settled his own case against Trump, but stated she stands by the allegations in 2016.
Financier Epstein was known for flying his associates around on his private jet, dubbed the 'Lolita Express.'
Flight logs reveal former president Bill Clinton and the UK's Prince Andrew enjoyed riding in the jet, where young models were a regular feature.
Clinton got a ride the 'Lolita Express' more than 25 times between 2001 and 2003, sometimes without his Secret Service protection.
Epstein, a level 3 sex offender who served 13 months for soliciting an underage prostitute, has been mired with allegations of sexual assault as many women have come out of the woodwork.
In 2014 one woman alleged she was used as a sex slave and had been at parties where Clinton was in attendance.
Investigations revealed he would pay minors to do massages and recruit even younger girls for the massages.
Bill Clinton was also accused, but never convicted, of sexual misconduct by several women including allegations of harassment and rape.
Juanita Broaddrick, now 73, said Clinton raped her in 1978, but only spoke out about her ordeal over two decades later in 1999.
Since then, her claims were widely ignored as were the sexual assault allegations from other women.
You can share this story on social media: