Turkey formally requests US to extradite 'coup-plotting' Gulen – State Dept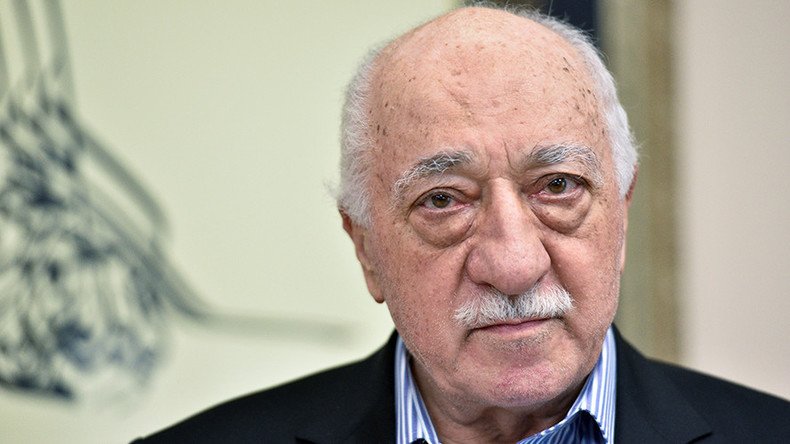 Turkey has formally requested the US to extradite Fethullah Gulen, a cleric that Ankara accuses of orchestrating the failed coup. The State Department has confirmed it received the request, but said it is not related to the coup.
"We can confirm now that Turkey has requested the extradition of Mr. Gulen, but I wouldn't characterize the request as relating to the coup attempt. In fact, they don't relate to the 2016 attempted coup," department spokesperson Mark Toner told reporters Tuesday.
Stressing that he shared that information with "some hesitation," Toner refused to elaborate on the details of the extradition request. He said that he does not "have specifics" of the possible reasons, but that it is "obviously related to other reasons for which they want him extradited for."
READ MORE: As Turkey changes geopolitical course, will Syria begin to heal?
Toner also refused to say whether or not the formal request meant that the US had started Gulen's extradition process.
"I don't want to necessarily wave a red flag that the process has started," he said. "My understanding is that […] we're now in the stage where we're considering the merits of the request."
Earlier this month, the State Department received a bunch of documents from Turkey related to Gülen, who is now living in rural Pennsylvania after fleeing Turkey 17 years ago.
The department has confirmed that it has been working through those documents, but Toner could not say whether at the time the documents amounted to an extradition request.
Yet, he did stress that the State Department's response would be within the 1981 extradition treaty with Turkey and that the US "would acknowledge" once a formal request is filed.
The US has previously refused to hand over the cleric, saying Turkey would need to provide "evidence, not allegations" against Gulen, in order to have him extradited.
Toner's statement comes right on the eve of Vice President Joe Biden's visit to Turkey, where he is expected to meet the President Recep Tayyip Erdogan. He is the highest-ranking official to visit Turkey after the July 15 attempted coup, in which over 250 people were killed.
This week, I'll travel to Ankara to underscore America's solidarity with the Turkish people in the wake of tragic attacks and coup attempt.

— Vice President Biden (@VP) August 22, 2016
He also will meet with Prime Minister Binali Yildirim.
According to the White House, Biden is going to emphasize Washington's "ongoing strong support" of Turkey, as the Obama administration is striving to heal up relations with Ankara as bilateral ties soared after the attempted coup.
Earlier this month, President Erdogan issued an ultimatum to the US, saying it must choose between Turkey and the US-based Turkish cleric.
"Sooner or later the US will make a choice […] Either the coup-plotting terrorist FETO [Gulenist Terror Organization, term used by non-Gulenists] or the democratic country Turkey. The [US] has to make this choice," Erdogan said in a speech.
Gulen was a popular preacher and former imam before setting up his own movement. He was a firm ally of Erdogan as the Turkish leader rose to power, but the two fell out and have become bitter rivals.
Ankara accused Gulen of creating a "parallel state" in Turkey in the form of a network of supporters among Turkish officials as well as of masterminding a corruption scandal in 2013, which involving senior government figures. Erdogan's government launched a crackdown against his organization, Hizmet.
If Gulen goes back to Turkey, he is facing a life sentence.
Gulen has fiercely denied accusations that he was behind the coup, and even alleged that the Turkish president could have staged it himself for his own personal gain – a claim which Erdogan has called "nonsensical."
You can share this story on social media: