FBI docs linked to Hillary Clinton role in Vince Foster's suicide missing – report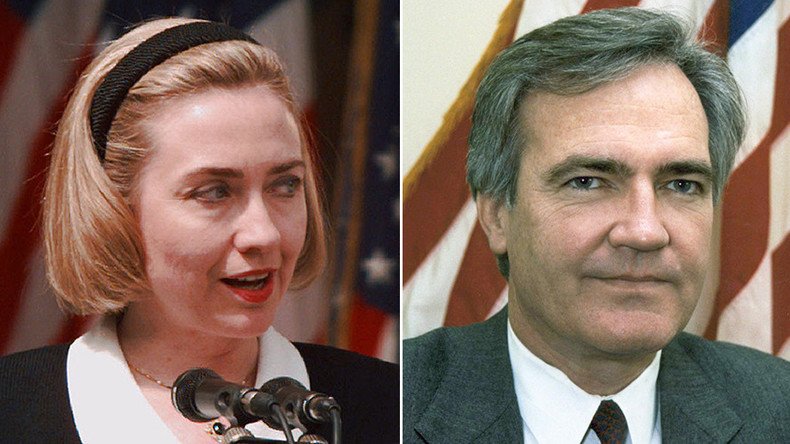 The FBI's reports linked to Hillary Clinton's role in the death of Vince Foster, a White House counsel and her friend, have allegedly gone missing. A journalistic investigation says it could be Clinton's humiliation that pushed Foster to suicide.
According to Daily Mail, documents containing interviews of Clinton conducted after Foster's death in July 1993 have vanished from the National Archives.
The report claims that author and journalist Ronald Kessler visited the National Archives and Records Service in College Park, Maryland multiple times to review the reports submitted by FBI agents investigating Foster's suicide.
On his first visit, Kessler received a box of documents, all related to Foster's suicide – interviews with the medical examiner, US Park Police officers and White House aides.
However, when he visited the archives the second time, the box with allegedly the same set of documents did not have reports on Clinton's role in the death of her husband's aide.
Based on interviews of both officials and Foster's family, the FBI found that a week before the former Bill Clinton aide killed himself, he attended a meeting with Hillary at the White House to discuss her proposed healthcare legislation.
Two former FBI agents told Kessler that the former First Lady publicly ridiculed Foster, accusing him of "failing" and "not protecting" them.
"Hillary blamed him for failed nominations, claimed he had not vetted them properly, and said in front of his White House colleagues, 'You're not protecting us' and 'You have failed us,'" [former FBI supervisory agent Jim] Clemente said, adding that Foster "was profoundly depressed."
"That was the final blow," he added.
READ MORE: FBI sends Clinton investigation docs to Congress as Republicans seek perjury charges
Another FBI agent, Coy Copeland, told Kessler that "Hillary put him down really, really bad in a pretty good-size meeting."
"She told him he didn't get the picture, and he would always be a little hick town lawyer who was obviously not ready for the big time," he said, while also calling the meeting "the final straw that broke the camel's back," apparently referring to Foster's depression.
However, Kessler failed to find either of the FBI documents that might have Hillary Clinton's interviews with the agents.
"He examined all eight boxes but found no interviews by any investigator that detail either a meeting between Hillary Clinton and Vince Foster or the effects of a meeting between Hillary Clinton and Vince Foster on Vince Foster's state of mind," the archives' public liaison Martha Murphy said of Kessler after he filed a Freedom of Information request with the National Archives.
Murphy said they searched for "the records that would be responsive" to Kessler's request and concluded that they could not be found.
Yet, the archives' director of communications and marketing, when asked for a comment, refused to admit that the documents were missing, suggesting that they might be somewhere else.
"We do not agree with your conclusion that the records you requested are missing from the National Archives simply because we were unable to locate any responsive records in response to your request," he told Kessler.
Valceanu did not rule out that the FBI interviews were not filed to the archives and could still be hidden in over 3,000 boxes containing 7.5 million pages of records.
The three-year investigation of Foster's death was conducted by the office of Whitewater independent counsel Kenneth W. Starr, who at the time was investigating another controversy surrounding the Clintons.
In the end, Starr decided to conceal the FBI's findings in his final report, Kessler wrote.
Foster took his own life on July 20, 1993, at Fort Marcy Park along the Potomac River. It was concluded that he shot himself with a .38 caliber revolver in the mouth.
This is not the first time Clinton-related documents have vanished. In March 2009, the archives failed to find an external hard drive from the Bill Clinton White House containing confidential data.
A criminal investigation was opened and a reward of up to $50,000 for information leading to recovery of the hard drive was placed.
You can share this story on social media: