Pledge of Allegiance waiver form angers 'patriotic' parents in Florida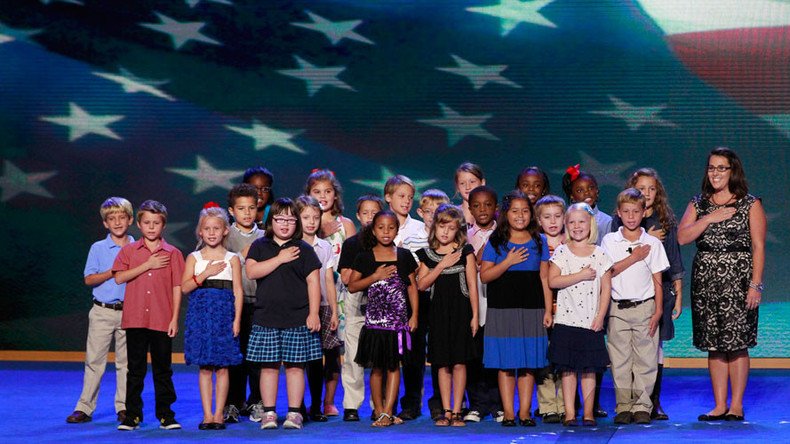 A nosy uncle claims to be outraged by the 'Pledge of Allegiance' waiver sent home from his niece's school - and now, so is the right-wing media machine.
Micah Brienen took to Facebook to voice his anger at the note his sister received from Killearn Lakes Elementary School.
He posted a photo of the form and the mother had added her owns thoughts: "This is the dumbest thing I have ever read and I am so ashamed of this."
Brienen's post received over 22,000 shares, which apparently made it newsworthy enough for the local Fox News affiliate.
Most commenters agreed with Brienen, with one saying, "I would pull my kids out of that school immediately."
READ MORE: Celtic fans #MatchtheFineforPalestine, raise £110k following flag protest
"Ship them off to another country," one said, while another claimed the "education system is run by Marxists," likely unaware that the Pledge was written by socialist Francis Bellamy.
Brienan said it "undermines the men and women who fought for that flag," which, based on his profile as an Optometric Physician, doesn't include him, as he preferred to play college basketball rather than serve his country in the military.
@foxandfriends If you cannot recite the pledge in this country you should have 2leave. Being able 2 live here isn't free & didn't come free

— trevbailee&tymom (@TrevBaileeTymom) August 23, 2016
Written in the late 1800s and angering atheists with its "Under God" clause since 1954, the Pledge of Allegiance originally called for those reciting it to extend their right arms in a Nazi-like salute.
@KyleKulinski I don't stand for the national anthem or pledge allegiance. Can't criticize the nationalism of Nazis when we have our rituals.

— R Anderson-Connolly (@rjaconnolly) April 1, 2016
While not required in all US schools, parents and children have been bullied into saying it by administrators, teachers, and federal judges for decades.
Florida law requires schools to inform parents that the, "student has the right not to participate in reciting the pledge."
Some social media users were quick to blame President Barack Obama for the form, not realizing the opt-out was available in Florida since 2000, according to Snopes.
@foxandfriends#NZC#THIS IS THE DEVIL WORK OF BARRY SOETORO ALIAS OBAMA MUSLIM TERRORIST POTUS & HILLARY CLINTON  GODLESS EVIL CRAZED CRONE!

— J A K HAWKEN (@BELLYUPDOWN) August 23, 2016
Brienan posted an update on Tuesday, saying that the request form had been removed from the student handbook "district-wide," although RT has put in a request from the Leon County school district to confirm this.
Their "LCS-Form to Report About Possible Bullying/ Harassment Incident(s)" is still linked on the school's website, for those atheists who wanted to file one against Brienan, but it is no longer available to download.
You can share this story on social media: