Robocop lives: AI security guard drone flies low, fast and recharges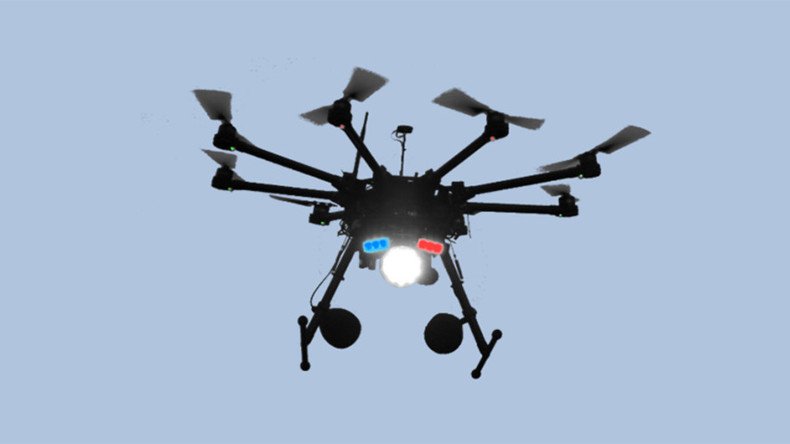 An idea that could transform the security tech sector is a roving self-flying security guard drone that uses artificial intelligence to patrol a property or prison. The drone comes equipped with night-vision cameras, can fly low and fast, and recharge its own battery.
"They tirelessly patrol outside your property around the clock, and actively deter crime by establishing physical presence at the site," the San Francisco startup Aptonomy said on its website. "[Smart] drones live on your property, and get to know it well. In a live monitoring scenario, you can adjust the drone's viewpoint and move it around safety in real-time – even from hundreds of miles away."
Special features of the security drone are a flight controller, day and night vision cameras, strobe lighting and loudspeakers built on top of the DJI S-1000+, a camera-carrying octocopter, the type most often used by movie-makers.
The security drone's artificial intelligence hardware and navigational systems allow it to fly low and fast, avoiding obstacles in structure-dense environments to detect human activity or faces. The drone can be programmed to use its motion detectors to respond to activity on the ground.
Potential customers could be complex environments such as Supermax prisons, nuclear power plants or oil refineries. One energy company has preordered Aptonomy's drones to use at oil refineries this year.
"Refineries are in remote locations and are very hard for human security guards to patrol. But they are a target for attacks," Mihail Pivtoraiko, Aptonomy co-founder noted, according to Tech Crunch.
The prototype drone was first unveiled at the ISC West, Las Vegas in April, a large-scale annual trade show. Now the company is offering a demo to those that might be interested in the artificial intelligence self-flying drone. They are expected to be available for lease by 2017, according to dronelife.com
"We are able to leverage over 25 years of robotics research and development expertise, combined, to bring this cutting-edge drone solution to the security marketplace," Pivtoraiko said in April.
The drones can be operated by a smart phone app to set patrols, observe a route, watch in real time, and dispatch a drone to a far corner of the property. Camera footage of the patrol is also captured for review later.
"For maximum protection, you can deploy a team of drones," said Aptonomy.
The self-flying drones are also self-reliant and can recharge their batteries by flying back to a charging station to power up.
Aptonomy's founders told TechCrunch that most aerial systems in commercial use are used hundreds of feet in the air for thermal or topographic mapping and not equipped to perceive human faces which security guards must be able to do.
The company emphasized the surveillance and warning aspect of the drone. Nothing was said about whether the drones could be armed.
Roving security drones are a growing sub-sector of the overall security unmanned aircraft system (UAS) market.
In December, Japanese company SeCom announced the development of a "drone guard dog" – a $6,000 commercial-security drone designed to roam factories and commercial buildings and investigate suspicious activity. Like Aptonomy's drone it sends livestream video to its human owner.
Another UAV firm Galileo launched the Alpha drone last year as an Indiegogo project. The quadcopter employs low-illumination IR cameras, HD 1080p cams, LIDAR, GPS to set up a geo-fence around a tract of property that couples with "Sensor Nodes" placed around the property, allowing Alpha to patrol within a perimeter without bumping into objects or trespassing onto neighboring tracts.
You can share this story on social media: