Northern exposure: Canada politely returns accidental US refugees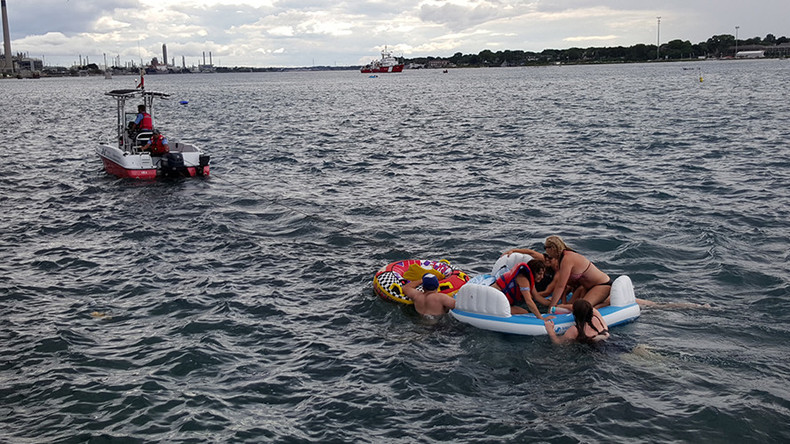 Canadian law enforcement helped 1,500 American drifters back to their homeland after they illegally floated across Port Huron. Not to be confused with vagrants, these were participants in the annual Port Huron Float Down.
Michigan's Port Huron Float Down is normally an end of summer festivity, where thousands of people take to the St. Clair River in inner tubes and other inflatable rafts. On Sunday, however, the cruel waters did not permit this celebration and punished about 1,500 people by casting them away to the desolate shores of Canada.
Well, sort of. The accidental illegal immigrants were rescued after strong rains and winds pushed over 1,000 partygoers off course and across international waters, the Detroit Free Press reported.
Gabrielle Satryb, 16, told the Free Press that they figured out they were being pushed from the US side of the St. Clair River and into Canada. When they finally reached land, they were greeted by "some friendly Sarnia Police that gave off the vibe that they were going to try their best to get us back to the US."
Satryb heard what the Sarnia Police were saying and understood the context, that she was about to have a very long ordeal ahead of her. So, "instead of waiting around we decided to use some muscle and get ourselves back. I jumped in the water with a life jacket and swam holding the rafts while my friend, Zach Howe, was in a kayak paddling."
She was back in the US within an hour, while the other 1,200 to 1,500 floaters had to deal with international bureaucracies that aren't really developed for weekend parties gone awry. Sarnia Police Service Staff Sgt. Scott Clarke told the Free Press that it was "a bit of a nightmare but we got through it."
The nightmare entailed 19 Sarnia Transit buses that took six hours to return everyone back to US Customs and Border Protection. They were not processed in Canada, likely because very few people bring their passports to a swimming party.
"There were long waits and long lines, (the floaters) were cold and wet, but they all made it home," Clark said.
While people involved claimed that most of the floaters were well behaved, some had an understandable frustration.
"At one time we had so many calls for medical emergencies that we couldn't do assistance for tows for convenience," Wayne Brusate, St. Clair County Sheriff Dive Team Chief, told the Free Press. "We had to handle all of the medical emergencies first."
The medical emergencies were fairly minor, with only three going to the hospital, one for an injury, another with pregnancy contractions and a third experiencing chest pains.
However, Canadian authorities were surprised by their American work ethic.
"The majority of rafters were unable or unwilling to help themselves get out of danger. There might be a raft with 15 or 20 tubes tied together and only one or two people paddling," Brusate told the Free Press.
So far, no one has been reported missing from the event, and all seem to be accounted for and returned home.
You can share this story on social media: