12yo girl under fire over 'disgusting' hunting pictures posed with dead zebra, giraffe (PHOTOS)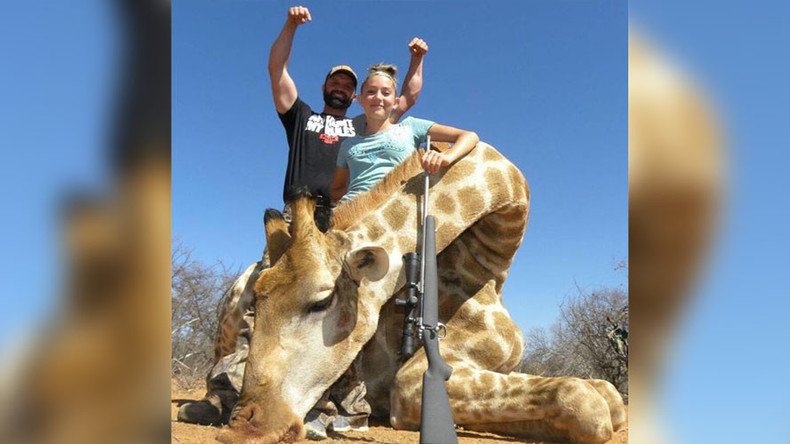 A young girl and her father from Utah are experiencing a severe backlash online for posing with carcasses of wild animals they have hunted down and killed.
Unlike most 12-year-old girls, Aryanna Gourdin has logged a series of big game kills, many of which she has apparently carried out using her trusty bow with pink arrows. The young markswoman has even traveled to Africa with her father Eli Gourdin, also an avid hunter, to pursue the interest.
"It's something that I cherish and I enjoy. I want other people to see what I have been able to experience," she told ABC News.
But while the Gourdins' hunts may be legal, it is the images of their kills on social media that have caused uproar.
On her Facebook page Braids and Bows, the young hunter can be seen posing with a number of native African animals, including her 'trophies' of a dead zebra, giraffe and impala.
The pictures have incensed some people who are now attacking the teenager online for being an "animal hater" and "evil." An image of Gourdin holding up the head of a dead giraffe with a rifle clearly in shot has garnered more than 7,000 comments, many of them negative.
"You should be ashamed of yourself for standing over a peaceful animal like that as if you murdering it is something to be proud [sic]," one person commented.
"It is disgusting that you think it's okay to kill these beautiful animals for sport," a second Facebook user said.
Another added: "Honey, drop the rifle [sic] and go back to school. Be something special."
Others have made much more extreme remarks, calling the young girl "sick" and even wishing that she comes to harm.
One middle-aged man wrote how he hoped she might be "torn apart by hyenas," while a woman suggested the girl should be hunted down and shot herself.
In the wake of the backlash, Gourdin acknowledged the profile picture of the giraffe was "offensive to others," but claimed the money spent on her hunts goes back into conservation.
"We helped secure a healthier population for the future. The money spent will help conservation efforts and boost the local economy. Hunting is hunting… Just because someone chooses to display their "trophies" doesn't make them a bad person. It represents memories," Gourdin posted on her official Facebook page.
"We hunters need to stand together no matter what we are hunting, as long as it is 100 percent legal," she added.
"To talk down to or condemn any kind of hunting only hurts us all. In the end if we all want to continue hunting this is necessary."
Not everyone is against the 12-year-old's hobby, however. A number of people offered her their support and called out 'trolls' for their verbal attacks on a child.
"How about you read up on something before bashing a little girl. Everything she is doing is perfectly legal," wrote one person in her defense.
"The threats and crude language 'adults' are posting needs to stop being thrown at you. I'm sorry that's happened from the internet's lowest common denominator," another supporter added.
You can share this story on social media: